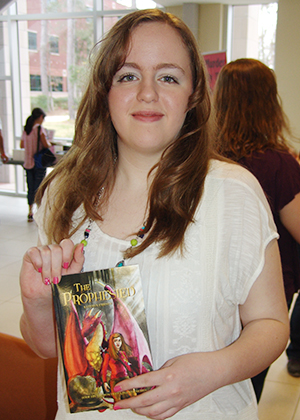 Lone Star College-Montgomery student Kathryn Friesen, author of the Power of Legends series, at her recent promotion of the second novel of the series, "The Apostasy," at the Montgomery County Book Festival held at LSC-Montgomery.
What does one do when their own dragon sketches seem to
have an enchanting tale to tell but no one knows what it is? In the case of 15-year old dual credit sophomore and LSC-Montgomery student Kathryn Friesen, she decided she would craft the world she could escape to herself, and is now penning an entire series for others to disappear to with her.
"I knew that I really wanted to read whatever the story was," said Friesen, who is also the daughter of Karyn Friesen, speech professor at LSC-Montgomery and Clark Friesen, speech professor at LSC-Tomball. "I knew the premise because I had been writing out little short stories and synopsis's around my pictures. I wanted to see what happened afterwards, but I knew no one else was going towrite it because no one else knew what was going to happen either. So I felt like I needed to do it."
As her homeschool art project of dragon etchings took on a life of its own, Friesen began to bring into existence 12-year-old Amber, a girl who discovers she's not really human, but a dragon and the daughter of a king. The princess's world quickly becomes an adventure to fulfill an ancient royal prophecy that spans over the course of five books in her Power of Legends series.
In book one, "The Prophesied," Amber celebrates her birthday alone, forgotten by her family and friends. Suddenly, her best friend appears to her and tells a story of dragons and her lost father. Things begin to transform for Amber, most notably by the growth of horns and her breath of fire. With unique powers and unfamiliar responsibilities, she and her friends Mo and Tiltyr, are thrown into a whimsical world of new friends and enemies.
Friesen recently promoted her second novel of the fantasy series, "The Apostasy", at the Montgomery County Book Festival held at LSC-Montgomery, where book enthusiasts were able to meet and speak with her, and other authors, as well as purchase a copy of her autographed book.
Friesen has packed so much adventure into the second book that it's twice the length of the first, offering readers an even deeper look into the kingdom and its characters. In the hopes of finding the next legend while protecting the empire, Amber sets out again with her friends to the city of Naor-Eldvin, into a more captivating world of unforeseen adventure.
Now working on book three, Friesen finds herself utilizing writing buddies to help with her story ideas. Able to work out the thoughts of the new characters on her own, she leans on a few friends for action ideas when fighting writers block.
As an inexperienced writer, Friesen admits that being a student at LSC-Montgomery is a great resource for her undertaking.
"Psychology was great because it ties into things like character and world building," Friesen said. "Speech was also beneficial because, even with two speech professors as my parents that have already helped me a lot, it was good to take the class and practice in real time."
Penning another book after completing this series is still unknown for Friesen, as she has future aspirations to be a video game designer, not a writer.
"I have a trilogy I'm thinking about doing," Friesen said. "I could continue the story and there are many ways to do so; maybe another set, or even write a couple singles, but writing is not what I want to do for a career."
After being challenged during a summer camp to do something extraordinary, Friesen now bestows a portion of her books' profits to Living Water International, a nonprofit organization that builds water wells in less fortunate countries.
The Power of Legends series is available through
FriesenPress.com/bookstore
, Amazon, Barnes and Noble, Google Play and iTunes bookstore.
LSC-Montgomeryis located at 3200 College Park Drive, one-half mile west of Interstate 45,between Conroe and The Woodlands. For more information about the college, call (936) 273-7000, or visit www.LoneStar.edu/montgomery.


Lone Star College System has been opening doors to a better community for more than 40 years. Founded in 1973, LSCS remains steadfast in its commitment to student success and credential completion. Today, with 78,000 students in credit classes, and a total enrollment of more than 90,000, Lone Star College System is the largest institution of higher education in the Houston area and one of the fastest-growing community college systems in the nation. Dr. Steve Head is the chancellor of LSCS, which consists of six colleges including LSC-CyFair, LSC-Kingwood, LSC-Montgomery, LSC-North Harris, LSC-Tomball and LSC-University Park, seven centers, LSC-University Center at Montgomery, LSC-University Center at University Park, Lone Star Corporate College, and LSC-Online. To learn more visit LoneStar.edu.