The Lone Star College-CyFair's 2014-2015 Student Research Award winners Gabriela Pineda, Jessica Martinez and Braxton Fonner, not only earned recognition and a grade for their research projects, but they also received $500, $300 and $100 respectively.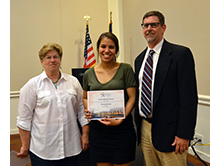 Pineda's first-place paper was titled "Intentionality Sculpted: The Directedness Higher Level Educated Beings Adhere and Conform To."
"Winning the library research award meant that an intellectual group of educated people of my community and college affirmed my hard work and dedication to such an arduous subject," she said. "It meant that my research and thoughts are considered worthy of high appraisal and that is a tremendous feat for any student."
Pineda said she checked out about 15 books and spent days researching the online library database for information in academic journals to cite in her paper.
"It was tedious at times, but I wanted several points of views for my research and I was very satisfied," she said. 
A student of Philosophy Professor Mark Thorsby, she plans to transfer and double major in psychology and sociology. She wants to first teach and then possibly open her own therapeutic practice.

Martinez's second-place win with her paper titled "A Wake-Up Call: Confronting Media Expectations for Body Image" was a great achievement that encourages her to continue writing.
She found the experience "very enlightening" and fun from beginning to end to see the essay come together with every revision.
"It was very helpful to be able to use the library catalog for my research to find articles relating my project," she said. "I would just email myself an article when I found something that looked promising, read over it at home and just extract what I felt would make the essay more effective."
A student of English Professor Kimberly Mori, Martinez said she is giving all subjects her best as she pursues a business degree until she decides her final career path.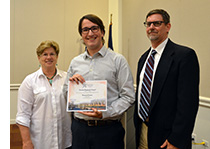 Taking third-place was Fonner with his paper titled "Teaching How to Learn: In Support of Skills Based Education."
The financial award – "another notch in the dream of a debt-free education" - became "an affirmation of the time and effort spent on academic work," said Fonner.
"To someone like me with only a semester of higher education this award provides me with the confidence that my ideas and effort are worthwhile on a larger stage than the four walls and grade book of the classroom," he said.
In addition to his professor's guidance database, Fonner said it was ridiculously convenient to use the library's electronic tools and research database extensively from home.
"A few simple clicks and you are immersed in quality journals and respectable research on any topic you can imagine," he said.
Fonner, a student of English Professor Jamili Omar, is pursuing an undergraduate degree in electrical engineering alongside an advanced degree in physics.
The Student Research Award recognizes annually the best student research projects that find, evaluate, select and communicate information from library resources effectively.  Faculty members nominate the student research projects and the volunteer organization, Friends of the Library at LSC-CyFair, generously fund the research award.
"Our mission is to promote interest in the library and support the library in its service to LSC-CyFair students and the community," said Joan Everson, president of Friends of the Library at LSC-CyFair. "The annual research project award is a win-win as it both promotes the use of library resources and rewards students for their efforts."
For information and deadlines on the Student Research Award, go to LoneStar.edu/library/award. For information on the library's resources, databases and more, go to LoneStar.edu/library.