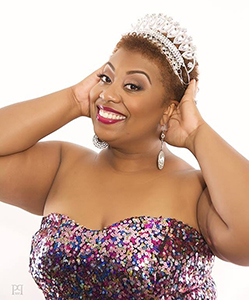 Dorsey
Personal and educational obstacles are enough for many to give up on their dreams. For Antre'chelle Dorsey, it was the fuel she needed to step out of her situation and rise above it.
A Lone Star College-Kingwood student, Dorsey has survived a violent relationship and is working hard to ensure that her third try in college will be a success and lead her to being an entertainment reporter. Posting her first YouTube video in November 2014, Dorsey knew this was the career that she wanted to pursue. Through hard work, motivation and support, the rising correspondent has received numerous opportunities to cover various events in the Houston area.
"I have done several local events here such as the Belles and Bow-tie Women Empowerment Brunch and Hampton's In Houston Scholarship Event, both presented by the ICON Women Organization," she said. "My method for preparation is to search all social media avenues, including websites and YouTube. This not only helps with covering the event, but it also helps break the ice until the person is comfortable with being interviewed or taped."
Dedicating long hours to research and working with her mentor, Dr. Cora Ann Williams, professor of communications, and librarian Jimmi Rushing, Dorsey received her big break when she was invited in June to an Aveda Company and Essence Magazine's Natural Hair Event for V.I.P.S. As the featured media correspondent, she had the good fortune to interview prominent celebrity hairstylist, Tippi Shorter, known for producing the hair styles that are featured on Essence Magazine's cover page. She also interviewed and connected with top Aveda executives, Essence.com's hair beauty editor Deena Campbell, super blogger Monica Stevens and local natural hairstylists.
"When I was invited to interview Ms. Shorter, I was shocked, overwhelmed and excited. Tippi is a guru in her craft and I knew that I had to really come professional, sharp and fast in order to capture her attention. Thank goodness, it worked," Dorsey said. "That experience was epic and the energy in that room was beautiful."
Dorsey's big break has gained her attention on Instagram and Twitter and possibly generated future projects such as doing YouTube videos using Aveda products and working with Shorter as an on air correspondent for projects in New York. The student credits her education at LSC-Kingwood as one of the main driving forces in her booming success.
"My experience at Lone Star College has helped me to awaken my creative thoughts and pursue different avenues in my field. Professor Michael Moode taught me the art of deliberative dialogue and I became a trained moderator. After working closely with professor Moode and Dr. John Theis, director of the Center for Civic Engagement, I'm now able to confidently train others in this useful skill. I have been intellectually inspired while working with the Center for Civic Engagement and all efforts have paid off as I was awarded a scholarship for my involvement in this department." she said. "I would love to be a strong positive voice for people who decided to take the untraditional approach to their dreams. I want to show that if you keep the dream alive inside of you, eventually it will jump out."
After earning an associate degree in communications from LSC-Kingwood, Dorsey will pursue a dual degree in mass communications and public relations. In addition to being an entertainment correspondent, she wants to start a public relations firm. Her ultimate goal is to work for a show like "Entertainment Tonight".
"I know that I don't have another chance to get this done. The time is now! I have a laser focus on the finish line and nothing is going to stop me now!"
Register now for credit classes online through myLoneStar.  Classes are offered days, evenings, or weekends in traditional, Internet, video, TV and independent study formats. For more information on how to register online, visit www.lonestar.edu/registration.
For general information about Lone Star College-Kingwood, call 281.312.1600 or visit http://lonestar.edu/kingwood.htm.
Lone Star College System has been opening doors to a better community for 40 years. Founded in 1973, LSCS remains steadfast in its commitment to student success and credential completion. Today, with 78,000 students in credit classes, and a total enrollment of more than 90,000, Lone Star College System is the largest institution of higher education in the Houston area and the fastest-growing community college system in the nation. Dr. Stephen C. Head is the chancellor of LSCS, which consists of six colleges including LSC-CyFair, LSC-Kingwood, LSC-Montgomery, LSC-North Harris, LSC-Tomball and LSC-University Park, five centers, LSC-University Center at Montgomery, LSC-University Center at University Park, Lone Star Corporate College, and LSC-Online. To learn more visit LoneStar.edu.
###