Lone Star College-Tomball has partnered with Dr. Paul Stoltz (pictured), the leading authority on the science and method of measuring and strengthening GRIT.  This fall the college will conduct the most comprehensive research study and implementation of GRIT conducted by any higher education institution to date. The study will aim to determine, among other things, to what extent a faculty member's emphasizes GRIT in the classroom affects the improvement of a student's success and performance.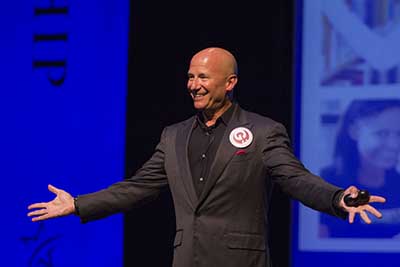 As defined by Dr. Stoltz, founder/CEO of PEAK Learning, GRIT is the "capacity to dig deep and do whatever it takes — even sacrifice, struggle, and suffer — to achieve [one's] most worthy goals in the best ways." The study coincides with LSC-Tomball's GRIT-Growth-Greatness (G3) initiative. LSC-Tomball president Dr. Lee Ann Nutt said, "We believe this work could revolutionize methodologies aimed at student retention and completion.  Through G3, we are establishing a framework that we are certain will lead to student success and completion on a scale we have not yet experienced in our college community."
Stoltz himself is the author of four international best-selling books on the subject of grit and resilience.  He oversees a research agenda in 29 countries dedicated to exploring, expanding and advancing the applications of "Adversity Quotient" and GRIT to strengthen people and their organizations. He has been a guest lecturer at MIT, Cornell, and the Harvard Business School Executive Education program.  Also involved in the study is Pearson Learning, an education publishing and assessment company committed to improving learning through research.
This study builds on work that began last year when LSC-Tomball started to explore the concepts of grit, as initially presented by psychologist Angela Duckworth, and 'growth mindset' as developed by Stanford researcher Dr. Carol Dweck.  Dr. Nutt presented several times during the 2014 – 2015 school year to introduce the college community to these ideas, including presenting a featured TEDx Talk in April.  The college's chapter of the international community college honor society Phi Theta Kappa adopted the concepts of grit and growth mindset, building their college project around those ideas.  In the spring, their work on this topic contributed to their recognition internationally as the most distinguished Phi Theta Kappa chapter (out of 1,285 chapters). 
"LSC-Tomball will be the national leader on GRIT in higher education," Dr. Nutt said. "This is an opportunity for our faculty, for our community, but most importantly, for our students." She points out that often community college students do not complete the goals they initially set for themselves because "life gets in the way. If we can institute practices in the classroom that tap into under-utilized perseverance and resilience," she continued, "we are certain we can drastically increase the number of students sticking with it and completing their goals." Dr. Stoltz agreed, "By encouraging GRIT in LSC-Tomball students, we can not only improve their classroom performance, but also their happiness, well-being, and success in general." Data for the study will be collected during the fall semester and released in 2016.