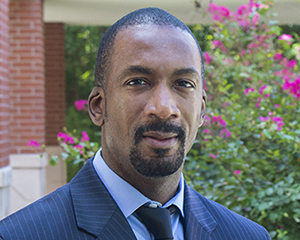 Lone Star College-Montgomery names Dr. James McGee as vice president of instruction.
"I'm excited and I feel things are going very well," Dr. McGee said regarding his first week in his new role. "I look forward to working with faculty and staff to build on the success that LSC-Montgomery has achieved.  I anticipate the contributions we can make in building and strengthening partnerships and relationships both campus and community wide."

Joining LSC-Montgomery from Elgin Community College in Elgin, Illinois, Dr. McGee has served as the dean of mathematics, science and engineering since 2011. He has served in a variety of other positions including dean of mathematics, education, science and health at Kishwaukee College in Matla, Illinois, department chair and instructor at Malcom X College in Chicago, Illinois, and also worked for Illinois Institute of Technology as an assistant professor.

"Dr. McGee is uniquely qualified to serve in this important role for the college," said Dr. Rebecca Riley, president of LSC-Montgomery. "He posses the attributes and characteristics we need on this campus, as well as all the qualifications to make him an extremely valuable asset to our administrative team here at LSC-Montgomery."

"My past educational experience will be extremely helpful in allowing me to pull from it and working with others to put together a plan of action that keeps the college moving in the direction it should be moving," Dr. McGee said.

Dr. McGee earned his bachelor of science degree in mathematics from Jackson State University in Mississippi, and his masters of applied mathematics degree from Auburn University in Alabama, where he also attained his doctorate in mathematics.

Dr. McGee has provided leadership and vision for transfer, career, technical and auxiliary departments, has served on a number of advisory councils with businesses, industries and education communities, and has been successful in collaborations with high schools, community colleges and four-year universities to offer successful educational insight that will be pertinent to his new role.

"The experience I've had in different positions–like an adjunct or full time faculty member, as a department chair or even as a dean–will allow me the ability to understand those I'm working with, their experiences and what they may be dealing with.  I will be able to take into account multiple points of view when I'm making decisions on how to continue moving forward with the vision of making sure our students are successful," Dr. McGee said.

Dr. McGee promises to bring to LSC-Montgomery some very valuable academic experience, outstanding leadership skills in the multi-college community college district, and the excitement and attitude that meshes well with students, faculty and staff here on campus.

"People here are so eager to work together and figure out how to make things happen," Dr. McGee said. "When I see the energy and hear the excitement, I'm happy to be a part of it as well, especially when I look at the successes that have happened for this campus in the past."

LSC-Montgomery is located at 3200 College Park Drive, one-half mile west of Interstate 45, between Conroe and The Woodlands. For more information about the college, call (936) 273-7000, or visit www.LoneStar.edu/montgomery.

 

Lone Star College System has been opening doors to a better community for more than 40 years. Founded in 1973, LSCS remains steadfast in its commitment to student success and credential completion. Today, with 78,000 students in credit classes, and a total enrollment of more than 90,000, Lone Star College System is the largest institution of higher education in the Houston area and one of the fastest-growing community college systems in the nation.  Dr. Steve Head is the chancellor of LSCS, which consists of six colleges including LSC-CyFair, LSC-Kingwood, LSC-Montgomery, LSC-North Harris, LSC-Tomball and LSC-University Park, seven centers, LSC-University Center at Montgomery, LSC-University Center at University Park, Lone Star Corporate College, and LSC-Online. To learn more visit LoneStar.edu.