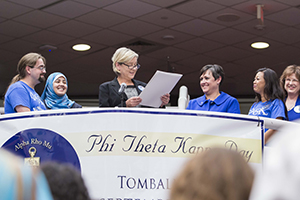 City of Tomball and Lone Star College-Tomball (LSC-Tomball) dignitaries and employees gathered amid a sea of royal blue on Wednesday, Sept. 16, in the LSC-Tomball Student Center to hear Tomball mayor Gretchen Fagan read a proclamation announcing the day Phi Theta Kappa Day.
Phi Theta Kappa or PTK is the international honor society for two-year colleges. The proclamation event was a highlight during a week of programming at LSC-Tomball intended to draw attention to the mission, purpose, and history of PTK as well as the benefits of membership. "We plan to raise awareness of how Phi Theta Kappa can be an enormous benefit to students and the community, to demonstrate how being members of a service-oriented honor society can empower students, and to emphasize how membership provides opportunities for members to develop as leaders," said this year's PTK vice president of leadership Maria Gonzalez.
Last spring, Alpha Rho Mu, the LSC-Tomball chapter of PTK, was named the highest ranking chapter out of 1285 chapters in the world when it received the 2015 Most Distinguished Chapter at the international convention in San Antonio. At the PTK Texas Regional Convention, the chapter was named the #1 chapter in Texas out of 88 chapters, receiving the 2015 Most Distinguished Chapter in Texas Award.  LSC-Tomball president Dr. Lee Ann Nutt said, "Individually and collectively, these students are committed servant-leaders, dedicated to community and institutional service, and their academic achievements are simply phenomenal. I am proud beyond words of our PTK student leaders and their dedicated faculty advisor, Dr. Rebecca Tate."
"By declaring September 16 'Phi Theta Kappa Day,' Mayor Fagan does more than simply acknowledge the accomplishments of our chapter in becoming the Most Distinguished in the world for 2015," said this year's chapter president Charles Kivlehen. "She is endorsing the ideals of Phi Theta Kappa as being in line with the ideals of this community; she is acknowledging the power of a small group of motivated individuals to leave a lasting and positive impact."
The recognitions last spring were based on the effectiveness of two elements of PTK programming titled the College Project and the Honors in Action Project. For its Honors in Action project, Alpha Rho Mu researched the use of integrative medicine to treat combat veterans who were suffering from chronic pain and PTSD. For its College Project, they worked closely with the college administration to provide outreach to all first time in college (FTIC) students at LSC-Tomball.   
For more information about Phi Theta Kappa at LSC-Tomball, visit http://www.lonestar.edu/25045.