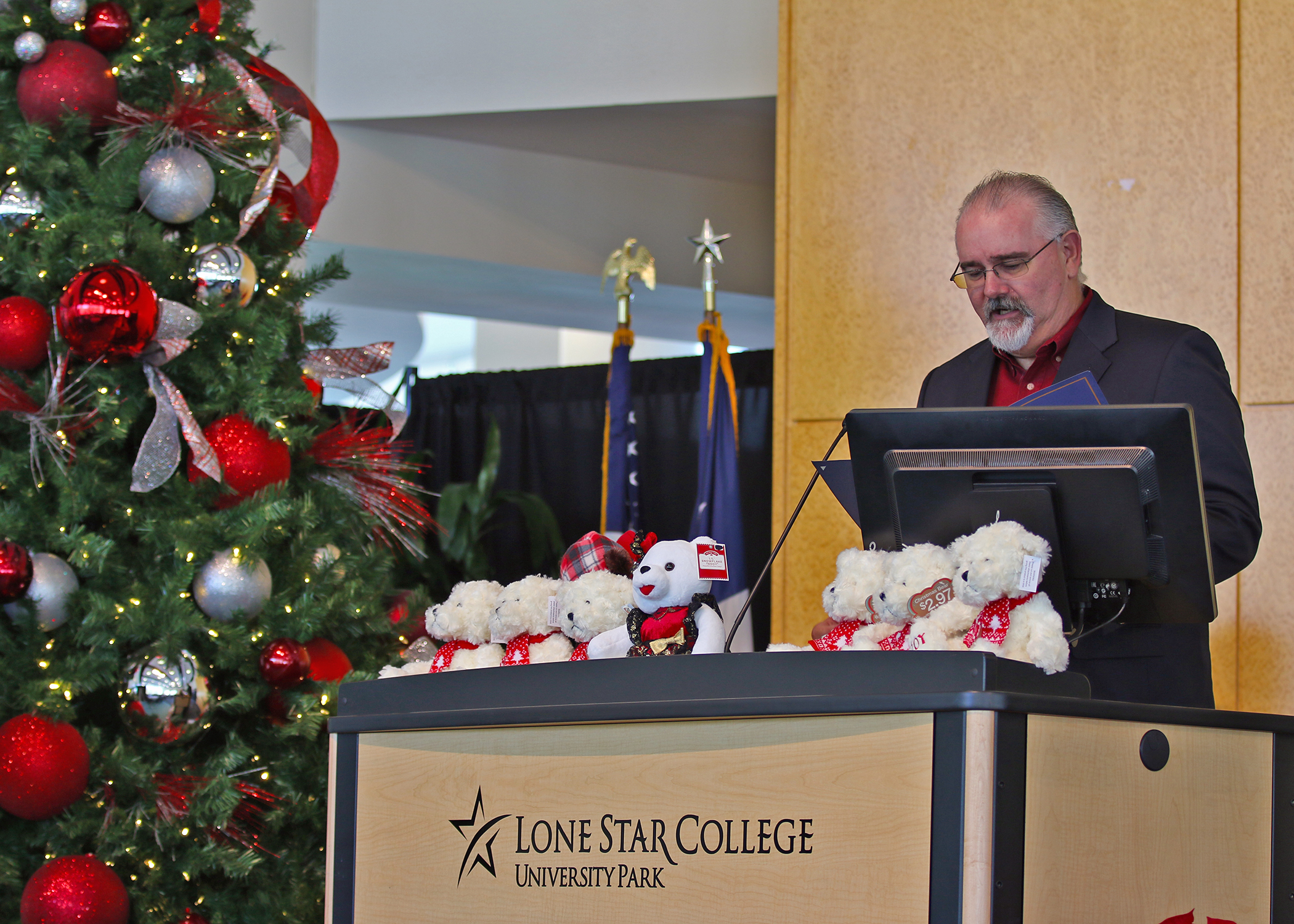 Officers from three law enforcement agencies left Lone Star College-University Park Dec. 4 with some colorful characters in their squad cars: more than 1,100 stuffed "911 Bears" of all shapes and sizes.
This fall, the college led a coalition of higher education institutions, student groups, community organizations, police departments and private corporations collecting new teddy bears. President Shah Ardalan gave the bears to representatives of the Harris County Precinct 4 Constable's Office and the Klein and Cy-Fair school districts' police departments in a special ceremony, during which Harris County Precinct 4 Commission R. Jack Cagle proclaimed the day as "911 Bears Day."
"When you're in the midst of those who wear the blue and who are our first responders, it is a delight to be able to be part of a program that … holds first and dearest in its heart the children that are in harm's way," Cagle said. "In a season of giving, it is great that we are part of those who are giving to others in the great things and in the little things that allow us to treasure life."
Lone Star College Trustees David Holsey and Ken E. Lloyd also attended the ceremony that came at the end of the College's holiday luncheon.
During the luncheon, Ardalan said the College is making great strides because of the support it receives.
"I appreciate Chancellor Steven C. Head and our Board of Trustees because they help make projects such as this possible," he said. "Their unwavering support of our vision of innovation is imperative as we build the community's college," he said.
Christina Robinson, LSC-University Park's Chief Strategist for Innovation, came up with the for the bear drive. She said the project's goal started at 500 bears, grew to 1,000, and ended up exceeding that. The count on Friday was 1,175, with some collection boxes still out in the community.
"We were just overjoyed at the response," Robinson said. "What started as an idea to assist our first responders has really grown exponentially and I continue to receive calls from people, companies and volunteers who want to get involved in the 911 Bear project."
When first responders — police, firefighters and paramedics — encounter stressful situations involving children, they will have the stuffed animals on-hand to give to them.
Although the need exists all year long, it becomes especially pronounced during the holiday season, she said.
Speaking on behalf of all the recipient law enforcement agencies, Cypress-Fairbanks Independent School District Police Chief Alan Bragg expressed gratitude for the donation drive.
"This is a great project and it's certainly something that law enforcement needs probably more than you may know," Bragg said. "We encounter kids every day at school — and some of them are at school because that's sometimes the safest place they can be. … I know we're going to use our bears for the right reasons for the right kids and identify them very quickly."
LSC-University Park's Professional and Support Staff Association President Sony Simon said staff across the college pitched in as the collection drive moved into full swing.
By mid-October, the drive had received about 300 bears from graduating cadets and their families at a Lone Star College Law Enforcement Academy commencement ceremony. Northwest Digital Works donated 288 custom bears.
The 911 Bear faculty and staff initiative was also supported and welcomed by the CyFair ISD Police Department; Harris County Precincts 4 and 5; Hewlett Packard Enterprises; Kay Jewelers; Klein ISD Police Department; Leadership North Houston; LSC Law Enforcement Academy; LSC Police Department; LSC System Office at University Park; LSC-University Park Professional and Support Staff Association, Education Department, Teachers2Be club, Criminal Justice Department, Justice Agents of Change club and Phi Theta Kappa honor society; Northwest Digital Works; Union Pacific; University of Houston Northwest Campus; University of Houston-Downtown Northwest and its Departments of Education and Criminal Justice; University of Phoenix; and the YMCA of Greater Houston.