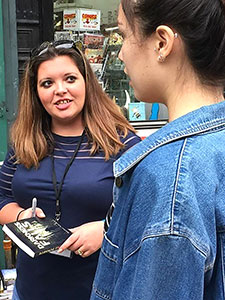 Author Heather Schwartz, left, autographs, "Darkness Falls" at a book signing event. Schwartz will discuss her career and publishing experiences on Jan. 27 at LSC-Kingwood.
Budding writers, professional authors and the community are invited to a program at Lone Star College-Kingwood to learn more about the publishing industry.
The Women's Center at the college will hold a writing seminar featuring author Heather Schwartz on Jan. 27 at 12 p.m. in Classroom Building A (CLA) room 114. Schwartz will discuss her book, "Darkness Falls", publishing tips and her journey on becoming a successful writer.
"We have a lot of writers in our community who don't know where to start to try to get published. Heather's path and persistence are good examples of the state of the publishing industry today," said Diane Blanco, Women's Center director.
Although Schwartz has written several stories, she has struggled with publishing, a topic that she hopes to help future writers navigate through.
"It's difficult to write a book. It's time consuming and a struggle, but it's also a lot of fun. The real struggle comes once the book is finished. Finding a publisher is perhaps one of the hardest things I have had to do in a while," Schwartz said. "I want to encourage people to follow their dreams and to have patience. When becoming a published author, there aren't any short cuts and definitely no fast routes. It's an excruciatingly slow process."
The author's passion for writing began at a young age. She frequently earned several awards in school for her poems and short stories. Although she enjoyed writing, it took a great loss in her life to realize her dream.
"My feelings motivated me to become a writer. As a child, when I was sad or couldn't understand life, writing became my outlet," Schwartz said. "Upon my mother's passing, I was left devastated and at times find that I still am. Writing helps me alleviate those painful moments."
The author enjoys reading and writing Sci-Fi Fantasy stories. To date, Schwartz has written two books: "Darkness Falls", written in 2011 and "Darkness Falls: The Corruption", which is currently in editing with a publishing house.  The "Darkness Falls" series deals with good vs. evil. In this supernatural battle, that takes place in the shadows of regular-day life, it is up to two families to keep the peace.
"I love the imagination of Sci-Fi Fantasy. I can invent anything and make anything happen. No one can argue it because well, it's fantasy," Schwartz said.
The author is currently working on the third book in the series, "Darkness Falls: The Consumption" as well as a new series, "The Orpheus School for Children."
In addition to being an author, Schwartz is a stay-at-home wife and mother. She was always drawn to the dramatic so it only made sense for her to write. She was only able to achieve this after numerous horrific events in her life. She currently lives in Atascocita with her husband, two children and her beloved dog.
For more information on the seminar at LSC-Kingwood, call 281-318-4332 or Diane.K.Blanco@LoneStar.edu. For more information on Schwartz's work, visit https://www.tatepublishing.com/bookstore/book.php?w=978-1-68187-084-7 or www.facebook.com/HeatherSchwartzAuthor.
Register now for credit classes online through myLoneStar.  Classes are offered days, evenings, or weekends in traditional, Internet, video, TV and independent study formats. For more information on how to register online, visit www.lonestar.edu/registration.
For general information about Lone Star College-Kingwood, call 281.312.1600 or visit http://lonestar.edu/kingwood.htm.
Lone Star College System has been opening doors to a better community for 40 years. Founded in 1973, LSCS remains steadfast in its commitment to student success and credential completion. Today, with 78,000 students in credit classes, and a total enrollment of more than 90,000, Lone Star College System is the largest institution of higher education in the Houston area and the fastest-growing community college system in the nation. Dr. Stephen C. Head is the chancellor of LSCS, which consists of six colleges including LSC-CyFair, LSC-Kingwood, LSC-Montgomery, LSC-North Harris, LSC-Tomball and LSC-University Park, five centers, LSC-University Center at Montgomery, LSC-University Center at University Park, Lone Star Corporate College, and LSC-Online. To learn more visit LoneStar.edu.
###