Lone Star College has partnered with National Oilwell Varco (NOV) and Anheuser-Busch to provide job training – thanks to $913,865 in Skills Development Fund grants from the Texas Work Force Commission.
"These grants will provide specialized job training for more than 500 new and current employees at National Oilwell Varco and Anheuser-Busch," said Dr. Stephen C. Head, LSC chancellor.
"Lone Star College is committed to building strong partnerships with local industry and we are proud these companies have chosen us to help train their employees," said Head.
NOV will create or upgrade 271 jobs using a $533,812 Skills Development Fund grant to provide specialized training for industry-related instruction on blueprint reading, schematics, welding codes, hydraulics, and Occupational Safety and Health Administration (OSHA) training. NOV trainees will include assemblers, fabricators, inspectors, machinists, material handlers and safety technicians.
"The partnership we have with Lone Star College, LSC Corporate College and the Texas Workforce Commission gives National Oilwell Varco the resources to get talent and train them to create a more prepared workforce," said Grant Almond, senior vice president of technology and product development, NOV.
Anheuser-Busch will create or upgrade 242 jobs using a $380,052 TWC Skills Development Fund grant to provide customized training for industry-related topics with focused instruction on boiler operations, maintenance and troubleshooting, programmable logic controllers, and ammonia operating. Trainees will include lab analysts, maintenance and production workers, electricians and engineers.
"Having this partnership with Lone Star College is critical to help us hire the right people," said Peter Roberts, senior general manager, Anheuser-Busch.
TWC Chairman Andres Alcantar presented checks to Dr. Head and representatives from the partnering businesses at a ceremony which was held at the LSC-University Park campus.
"By working with Lone Star College, we have been able help many Texans through programs such as College Credit for Heroes and provide free training opportunities in various programs," said Alcantar.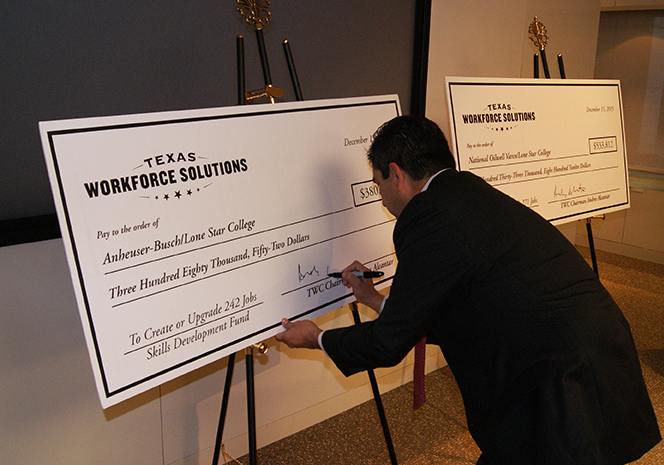 TWC Chairman Andres Alcantar signs checks for the $913,865 Skills Development Fund grants
given to Lone Star College by Texas Workforce Solutions to help train
current and new employees at National Oilwell Varco and Anheuser-Busch.
Lone Star Corporate College partners with global corporations to provide customized training, open enrollment courses, and professional seminars. Lone Star Corporate College focuses on the energy, computer technology and advanced manufacturing sectors, but can also provide training for retail, hospitality, school districts, health care organizations, non-profits, and many other industries.
Known for its leadership, innovation and steadfast commitment to student success, Lone Star College provides high-quality academic transfer and workforce education/career training programs to more than 83,000 credit students each semester, and a total enrollment of 95,000 students. LSC is training tomorrow's workforce today and redefining the community college experience to promote student success and economic prosperity. Stephen C. Head, Ph.D., is the chancellor of LSC, the largest institution of higher education in the Houston area, which consists of six colleges, seven centers, two university centers, Lone Star Corporate College and LSC-Online. To learn more visit LoneStar.edu.
####