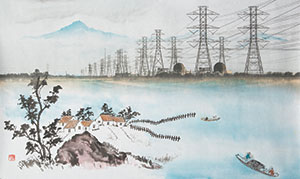 The "Nuclear Power Plant and Pastoral Landscape", by Mark Chen and Shiao-Nan Chen, is one of many pieces that will be on display in the "Renewed" art exhibition at LSC-Kingwood.
Lone Star College-Kingwood's Fine Art Gallery welcomes Mark Chen's window on a possible future with the "Windtopia" and "Renewed" exhibition Jan. 19-Apr. 2.
The community is invited to take a tour of the exhibit and attend a reception/artist talk on Thursday, Jan. 28 at 12 p.m. Chen's exhibit will culminate with a collaboration with LSC-Kingwood's Contemporary Music Festival.  Participants will compose music based on his artwork at a live performance on Sunday, April 3 at 7:30 p.m. in the Art Gallery.
Weaving fantastical futures with still images, video, animation and performance, the artist explores popular solutions to climate change, inviting dialog between the viewer and the future as they might imagine it.
"Photographer Chen is a digital media artist, author and activist whose narratives are designed to raise awareness of environmental and societal issues," said Kris Larson, LSC-Kingwood gallery director. "This exhibit will feature different bodies of work that are tied together by the threads of social change."
Chen's interest in the changing environment led him to join the ranks of artists committed to raising awareness and broadening discussions. "Renewed", a collaborative series by Shian-Nan Chen and Mark Chen, focuses on the desperate attempt to remove Beijing's persistent and impenetrable smog as China continues to build wind farms in Inner Mongolia with all haste.  "Renewed" addresses China's rapid rise to prosperity and increase in energy consumption through an unlikely combination of genres. Past and present meet as classical Chinese landscape paintings blend with stark outlines of wires and wind turbines, presenting realities resonant with comfort and uncertainty.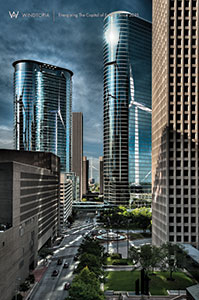 Mark Chen's "Energizing the Capital of Energy" art piece will be one of many on display in the "Windtopia" art exhibition at LSC-Kingwood.
In "Windtopia", the year is 2045. Windtopia's 50 million wind turbines provide clean, renewable energy to every corner of the planet. Climate change and the grand debate of sustainability are finally only pages in history. But as wind power facilities increase, they infiltrate living spaces and blight the landscape, bringing constant noise and destruction of avian species.
"Through satire bound with controversy, Chen shines a bit of light on a future the world might steer toward or away from. 'Windtopia' presents environmental issues without preaching to the choir," Larson said.
The LSC-Kingwood's Fine Arts Gallery is located in the Performing Arts Center (PAC), room 114. This is the largest non-profit art gallery in the area and it is only a half hour from downtown Houston. The gallery is an educational space for the community to learn more about art and student, faculty, local, regional, and international artists.
The gallery is open Monday through Thursday from 11 a.m.-5 p.m., and closed on weekends. All gallery events are free and open to the public. For more information call 281-312-1534 or www.LoneStar.edu/arts-kingwood.
For more information on available courses or to register online, visit www.lonestar.edu/registration.
Register now for credit classes online through myLoneStar.  Classes are offered days, evenings, or weekends in traditional, Internet, video, TV and independent study formats. For more information on how to register online, visit www.lonestar.edu/registration.
For general information about Lone Star College-Kingwood, call 281.312.1600 or visit http://lonestar.edu/kingwood.htm.
Lone Star College System has been opening doors to a better community for 40 years. Founded in 1973, LSCS remains steadfast in its commitment to student success and credential completion. Today, with 78,000 students in credit classes, and a total enrollment of more than 90,000, Lone Star College System is the largest institution of higher education in the Houston area and the fastest-growing community college system in the nation. Dr. Stephen C. Head is the chancellor of LSCS, which consists of six colleges including LSC-CyFair, LSC-Kingwood, LSC-Montgomery, LSC-North Harris, LSC-Tomball and LSC-University Park, five centers, LSC-University Center at Montgomery, LSC-University Center at University Park, Lone Star Corporate College, and LSC-Online. To learn more visit LoneStar.edu.
###