Lone Star College-CyFair's Criminal Justice Department and Club professor and advisor Jennifer W. Bourgeois is preparing for another semester full of lessons and successes beyond the classroom.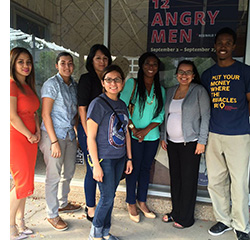 Exemplifying the college's efforts to enrich lives and collaborate, Bourgeois first partnered with Biology Professor Shaunte Hulett for the campus' first Whodunnit Mock Crime Scene.  The purpose of the event was to bridge the gap between Criminal Justice and Science, she said.
Students collected evidence and interviewed potential suspects, as well as participated in a biology blood typing exercise.  Mock trials featured campus administrators participating as suspects and included real life professionals (defense attorney, prosecutor, judge and a forensic science expert) as well as a jury of students in Professors Kelli Vorish, sociology, and Jason Fernandez, psychology, classes.
The fall semester began with some outings and interactive discussions. Bourgeois took students to live performances, such as "12 Angry Men" and "Bonnie and Clyde", which included a Law and Order Night post-show talkback with expert panelists who discussed Bonnie and Clyde's connections to Houston.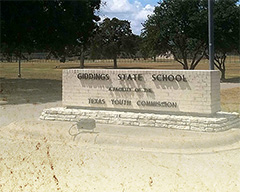 Providing real-life insight into the criminal justice system, her corrections class, along with history professor Angela Bell, visited the two oldest correctional facilities in Texas, the Wynne and Huntsville/Walls Unit.  During the semester students also visited a Juvenile State School Correctional Facility in Giddings, Texas.  Bourgeois said the experience was so impactful that students returned in December to host a Christmas party for juveniles at the facility.
Club members also participated in the Child Advocates Superhero 5K Run. The event was held to raise awareness about the importance of Child Advocates, who provide a voice for abused and neglected children exit foster care to a safe, permanent home.
In addition to the success of the community outings, Bourgeois said it's her pleasure to share good news about a couple of her students.
First of all, Gisselle Fanini, who was accepted to Sam Houston State University for next fall, was also selected as a Student Volunteer with Homeland Security Investigations, Department of Homeland Security. The Student Volunteer Program will provide her with an opportunity to gain work experience, explore career options and develop personal and professional skills.
Secondly, Bourgeois attended former Criminal Justice student and CJ club member Ever Marin's December graduation from the Houston Police Department Academy.
"I was very proud to see him accomplish his goal of becoming a law enforcement officer and following in the footsteps of his older brother," said Bourgeois.
This spring students can look forward to the CJ Talk Speaker Series, which will include several guest speakers, such as federal special agents, state and local police officers, attorneys, forensic scientists and others related to the Criminal Justice field.  In addition, the Whodunnit Mock Crime Scene will return March 9 as well as a Forensic Science Symposium titled "Myth Busters: Debunking the CSI Effect," which will be held March 2.
Contact Bourgeois for information on her events, the department or the student club at Jennifer.W.Bourgeois@LoneStar.edu
.