The 12th Annual Prom Dress Give-Away benefiting teens without the financial means to purchase a dress for prom this spring is set at Lone Star College-CyFair Branch Library.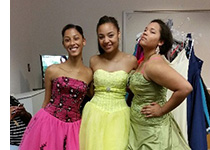 Dresses are free to the recipients and are theirs to keep thanks to community donations. All dress sizes 0-30 (plus sizes are in most need) and accessories are accepted year-round.
While supplies last, dresses will be available on a first-come, first served basis for the first 100 teens from 1:30 p.m. to 4:30 p.m. Sundays, Feb. 7 and April 3 and from 1 p.m. – 4 p.m. Saturdays April 2, April 15 and April 23 in the library, room 131.
Teens in need of a dress should contact the Youth Service Specialist at their high school or Prom Closet organizer LSC-CyFair Teen Librarian Elise Sheppard at elise.j.sheppard@lonestar.edu or 281.290.5248. Large groups should contact Sheppard.
Information is also available at LoneStar.edu/library/Promcloset.