Six Lone Star College students shared stories of hardship, commitment and achievement during the 23rd annual Chancellor's Breakfast presented by the LSC Foundation.
"Listening to these students' stories helps remind me what a vital role Lone Star College plays in the lives of all our students," said Dr. Stephen C. Head, LSC chancellor. "It is truly a privilege to listen to them share their personal stories of adversity and triumph."
The Chancellor's Breakfast recognizes six students, one from each of the Lone Star College campuses, for their winning essay. Each student received a $1,000 scholarship which is made possible due to the generosity of LSC Foundation donors and supporters.
The six student essay winners were: Krista Garrie, LSC-CyFair; Ariana Velazco, LSC-Kingwood; Jeremy Martinez, LSC-Montgomery; Eric Thompson, LSC-North Harris; Gerald Hallford, LSC-Tomball; and Jesse Rodriguez, LSC-University Park.
Each year, LSC students are invited to participate in the essay contest to write about "How my Lone Star College experience has influenced my life." Winners are selected by campus committees prior to the breakfast event, which was held Jan. 26 at the Lone Star Community Building in The Woodlands.
"None of this would be possible without the generous support from the many individuals, families, estates, businesses, corporations and foundations which help Lone Star College students achieve their dreams," said Leah Goss, LSC chief advancement officer and LSC Foundation executive director. "Their contributions are truly an investment in our community's future."
Excerpts from this year's student essay winners:
Krista Garrie, LSC-CyFair
"Attending Lone Star has not only put me on the path to a successful career, but I am applying everything I have learned at LSC-CyFair to life skills as well. I am now more organized, a better reader, a more apt teacher with my children's homework, and even a more patient mother, all due to my time here at LSC. My experience here is aiding me to become the best version of myself, and it is the cornerstone upon which I build my future. Though it is only the beginning, LSC-CyFair is the light on my new horizon."
Ariana Velazco, LSC-Kingwood
"After traveling thousands of miles and experiencing countless personal revelations, on mile 2,264 I arrived at the doors of Lone Star College-Kingwood, my refuge, my niche. In the almost two years of attending this vibrant house of knowledge my life has been utterly transformed. This experience has given me purpose and hope. My academic journey has led me to the study of music, and with it, the discovery of my greatest passion -- my reason for being."
Jeremy Martinez, LSC-Montgomery
"As a college sophomore, I can easily say that my college experience has far exceeded that of many of my peers who have chosen other four-year universities out of high school. Without a doubt, Lone Star College has better prepared me for my future academic endeavors and the real world. Overall I feel I am prepared to face the world as a future Lone Star College graduate. Upon my transfer to my future four-year institution, I will be better prepared and a better student for choosing Lone Star College as opposed to shooting straight for a larger school."
Eric Thompson, LSC-North Harris
"I began my college journey back in 2005 after my mother was killed. Losing both parents by the age of 18, I was looking for an escape and thought that college was it. Little did I know that I was not ready and needed to deal with my pain. I lost confidence in myself; I felt alone and just wanted my parents back. This summer I decided that it was time to get back on track and to return to school and get the degree that I have been wanting. After my first assignment and test, I realized that I was up for the challenge, and that I can and will do what it takes to make my parents and me proud."
Gerald Hallford, LSC-Tomball
"My Lone Star College experience has helped shape the way I approach life. My goals and plans for the future have been redefined. Ultimately, I am the one who made the decision to go down a new path but, Lone Star College has provided the resources that will allow me to succeed. Anyone who knew me before my time at Lone Star College would find the man I am today unrecognizable. I now have plans to obtain a master's degree in Counseling Psychology and become a leader in drug abuse rehabilitation."
Jesse Rodriguez, LSC-University Park
"Lone Star College has not only provided me with the means to achieve an education, but also the irreplaceable desire to acquire new information and learn as much as I possibly can about the world around me. My confidence has risen to its zenith, and, thanks to Lone Star College, I am now equipped to face all of life's challenges, obstacles and hardships. I will continue to use my newly acquired wisdom and skills to be a good father, earn a living, and change the world around me for the better."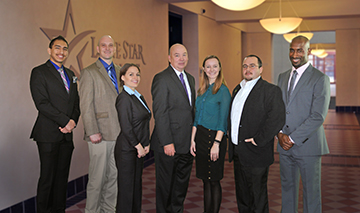 Pictured are winners of the Lone Star College Foundation student essay contest with
Dr. Stephen C. Head, LSC chancellor. Pictured left to right are: Jeremy Martinez, LSC-Montgomery;
Gerald Hallford, LSC-Tomball; Krista Garrie, LSC-CyFair; Dr. Stephen C. Head, LSC chancellor;
Ariana Velazco, LSC-Kingwood; Jesse Rodriguez, LSC-University Park;
Eric Thompson, LSC-North Harris.
Established as a 501(c)(3) Type I nonprofit corporation, the LSC Foundation's mission is to raise money to support students and academic programs of the LSC. Through StarGala, an annual golf tournament, and the generous support of individuals, corporations, businesses and other organizations, the LSC Foundation is able to annually grant numerous scholarships to students attending LSC colleges and centers. For more information, visit the LSC Foundation online at LoneStarCollegeFoundation.org.
Known for its leadership, innovation and steadfast commitment to student success, Lone Star College provides high-quality academic transfer and workforce education/career training programs to more than 83,000 credit students each semester, and a total enrollment of 95,000 students. LSC is training tomorrow's workforce today and redefining the community college experience to promote student success and economic prosperity. Stephen C. Head, Ph.D., is the chancellor of LSC, the largest institution of higher education in the Houston area, which consists of six colleges, eight centers, two university centers, Lone Star Corporate College and LSC-Online. To learn more visit LoneStar.edu.
####