From student and colleague nominations, four outstanding faculty at Lone Star College-CyFair have been named as 2015-16 Adjunct Faculty Excellence Awards Winners.
Recognized for their professionalism and commitment to student learning and success, this year's award recipients are passionate about their respective language classes, including Tomoko Baker, who teaches Japanese; Georges Detiveaux, who teaches French, Lee Glaesemann, who teaches English; and Jennifer Heller, who teaches accounting (the language of business according to Heller.)
Baker, who's been at LSC-CyFair the past two years, brings more than 20 years of helping students learn a new language and culture.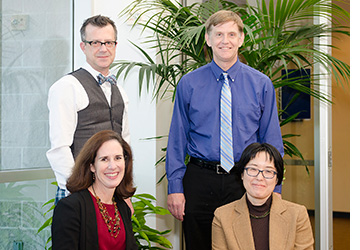 "Learning a new culture is acquiring a new way of seeing the world.  The new points of view allow students to see topics from multiple perspectives," said Baker. "Cultural knowledge, how people see, behave, or interact in another society, can be acquired better through contact with the target culture rather than through classroom instruction.  I provide opportunities for students to learn through real experiences and utilize their new knowledge for real life situations."
Detiveaux, who has taught at LSC-CyFair since the campus opened, makes sure his exclusively online courses emphasize speaking French and are every bit as interactive as face-to-face and hybrid courses with the use of technology tools.
"French is that language that has a reputation for being difficult, so I like to frame my courses around dispelling that notion. I use a lot of humor and like to give lots of personalized feedback," said Detiveaux. "My goal is to be the facilitator of an experience that has students speaking the language … not just speaking about it!"
Glaesemann, who also began teaching at LSC-CyFair when the campus opened in 2003, implements a Universal Design for Learning style in his classroom which provides multiple means of representation, action and expression, and engagement.  
"I believe a college teacher should present content in multiple modalities, allow students to demonstrate their understanding in multiple ways, and engage students in a manner that is relevant to them," he said. "I teach because I want to make a difference in the world."
Heller, who began at LSC-CyFair six years ago, is committed to helping accounting students understand the language of business and prepare them for success in that world.
"Accounting is a vital tool for communicating and making informed managerial decisions," she said.  "My goal is to prepare students for the world of business by structuring the class to promote interactive, cooperative learning of an exciting and rigorous curriculum in a respectful, professional environment."
These four adjunct faculty members will be among those employees honored for outstanding service in college-wide and system-wide employee events later this spring.
For information on LSC-CyFair, adjunct faculty opportunities, late start class registration as well as college degree and workforce programs, go to LoneStar.edu/cyfair.