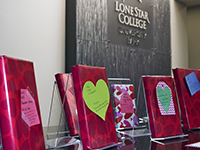 Curious readers might make a love match this Valentine's Day through the Lone Star College-University Park library's Blind Date with a Book campaign.
Wrapped in Valentine's Day paper, each mystery package displayed on the front counter of the Student Learning Resource Center sports hints about the reading material inside, including the first line of the book.
"Space, military, older than they look," reads one. "Pick-up line: 'I did two things on my seventy-fifth birthday. I visited my wife's grave. Then I joined the army.'"
Another is meant to appeal to readers interested in steampunk, magic and cats. A third boasts ghosts, WWI and Frankenstein allusions.
Program coordinator Stephanie Harbeson said the Blind Date with a Book idea is popular among libraries as a way of encouraging readers to take chances on books they may not otherwise have selected.
"The concept is simple: you give just a few hints, kind of like a dating profile, and people can pick them up and check them out. They don't know exactly what they're picking," Harbeson said. "It's the idea of not judging a book by its cover."
The library has revealed some of the mystery books on its Twitter feed. They include "Dandelion Wine" by Ray Bradbury, "Miss Peregrine's Home for Peculiar Children" by Ransom Riggs and "Church of Marvels" by Leslie Parry.
Normally an electronic repository, the Student Learning Resource Center borrowed hard-copy fiction and non-fiction to loan to students, faculty and staff interested in the mystery match-ups. 
The blind-date books come from a consortium of Lone Star College, Harris County and Montgomery County library systems through which LSC-University Park regularly acquires items for its patrons. Students and employees can spend two weeks with their dates and then return them to any consortium library.
"As we saw the books were going quickly, we requested some more," Harbeson said. "It definitely does attract the students to it."