Lone Star College will host the Lone Star Book Festival, a two-day event featuring nationally and internationally known fiction and non-fiction authors April 8 and 9. The Lone Star Book Festival will be held at the LSC-Kingwood campus.
"Currently, we have over 125 authors of all genres from the United States coming including Jonathan Sandys, the grandson of the great statesman Winston Churchill who will talk about his book; "God & Churchill" during the Saturday session," said John Barr, LSC history professor and Lone Star Book Festival director. "We are delighted the Lone Star Book Festival will join a long list of Houston's cultural accomplishments,"
Former Houston Astros manager Larry Dierker will be the luncheon keynote speaker Friday, April 8. Annette Gordon-Reed, who will be discussing her forthcoming biography of Thomas Jefferson, "The Most Blessed of Patriarchs: Thomas Jefferson and the Empire of Imagination" will be the keynote speaker for the evening session.
Jerry Coyne, a world-class biologist from the University of Chicago will discuss his volume, "Faith vs. Fact", which examines the ongoing conflict between science and religion during the Saturday Keynote address. Nick Flynn, local and nationally recognized poet and writer, will speak on his work and the importance of writing in an educated society during the afternoon keynote session.
In addition to the keynote speakers, naturalist Deborah Cramer will discuss her work on bird migrations, biomedical science and climate change, as detailed in "The Narrow Edge: A Tiny Bird, an Ancient Crab and an Epic Journey." Other authors include Ruben Flores discussing his award-winning book, "Backroads Pragmatists: Mexico's Melting Pot and Civil Rights in the United States"; Emory University's Melvin Konner, talking about his work, "Women After All: Sex, Evolution and the End of Male Supremacy"; and Rachel Swaby, speaking on her volume, "Headstrong: 52 Women Who Changed Science and the World."
A wide variety of authors will be available to speak to audiences about their ideas, meet with attendees, and be available to sign copies of their works.
There will also be the opportunity to meet children's writer including Chris Barton, fiction writers such as Merritt Tierce and Dominic Smith, mystery author Jon Land, food and wine writers Dave DeWitt and Rob DeSalle, and internationally famous musicians such as Ndugu Chancler.
Former Houston Oilers QB Dan Pastorini, author of "Taking Flak: My Life in the Fast Lane" and Houston Chronicle business journalist Chris Tomlinson "Tomlinson Hill" author of "Tomlinson Hill" will also speak to attendees.
The University of Houston Creative Writing faculty and students will participate in panel discussions along with professors from Rice University, Houston Baptist University and Sam Houston University.
"All in all, this will be a cultural milestone for the city of Houston," said Barr.
In addition, the LSC Book Festival will host Timothy Snyder, author of "Black Earth, The Holocaust as History and Warning" at the Holocaust Museum Houston, April 5. Snyder, a housum professor of history at Yale University and a permanent fellow at the Institute for Human Sciences, will speak on his research and the impact the holocaust has had on history.
Admission is free for the festival and memberships are available for $50 which provide priority seating to all events and admission to the April 5 talk. Visit LoneStar.edu/LSCBookFestival for more information and a complete guide to the authors scheduled to appear.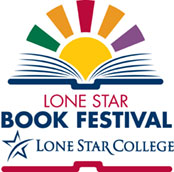 Known for its leadership, innovation and steadfast commitment to student success, Lone Star College provides high-quality academic transfer and workforce education/career training programs to more than 83,000 credit students each semester, and a total enrollment of 95,000 students. LSC is training tomorrow's workforce today and redefining the community college experience to promote student success and economic prosperity. Stephen C. Head, Ph.D., is the chancellor of LSC, the largest institution of higher education in the Houston area, which consists of six colleges, seven centers, two university centers, Lone Star Corporate College and LSC-Online. To learn more visit LoneStar.edu.
####