Attendees at Lone Star College-CyFair's weekly programs this April will learn about biotech research and experiments, the Battle of San Jacinto, serenity techniques on planet Earth as well as SIRE's therapy horses.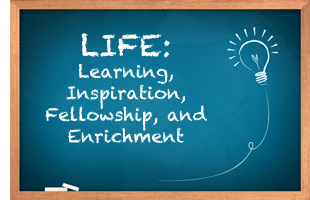 The Learning, Inspiration, Fellowship, and Enrichment (L.I.F.E.) programs are free and held Wednesdays from 10 a.m. to 11 a.m. in the library (Room 131 unless otherwise noted) at 9191 Barker Cypress.
April 6 - Biotech Research at Lone Star College
Discover groundbreaking research and scientific experiments from students at the Biotechnology Institute at LSC-Montgomery. Dr. Daniel Kainer, director of the institute, knows how to take his talented students and spur them on to greatness.
April 13 - The Battle of San Jacinto
Commemorate San Jacinto Day coming up April 21 with historian Dr. Eddie Weller who enlightens us about the Texas Revolution and the crucial role this legendary clash played in securing Texas Independence.
April 20 - Ground Yourself for Earth Day
Dr. Irene McDonald, meditation instructor, demonstrates simple practices that will help you achieve mindfulness and serenity on this everything-but-calm planet.
April 27 - Meet Therapy Horses from SIRE
Join Learn how these noble creatures can help those with disabilities or those in need of a little extra loving care. Natalie DeJong will bring her horses to campus for this special visit. She is a trainer at SIRE Houston's Therapeutic Equestrian Centers, a charitable organization. More details about SIRE at sire-htec.org. Meet outside the library between CASA and the library.
Call the library at 281.290.3214 for L.I.F.E. program information or go online to LoneStar.edu.