Attendees at Lone Star College-CyFair's weekly programs this May will learn about Geographic Information Systems, a plant swap and being healthy with sushi and Ageless Grace® fitness.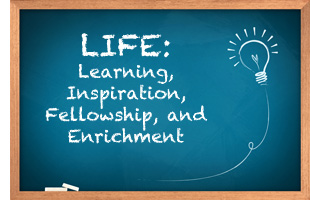 The Learning, Inspiration, Fellowship, and Enrichment (L.I.F.E.) programs are free and held Wednesdays from 10 a.m. to 11 a.m. in the library (Room 131 unless otherwise noted) at 9191 Barker Cypress.
May 4 - Map It with GIS
Professor Michael Konvicka explores the possibilities of Geographic Information Systems (GIS) to understand the world around us. Learn what his students go on to do after earning their GIS degree. Meet in the GIS Lab, CASA 222.
May 11 - Homestyle Sushi
Rachel Renick is back to show us how easy it is to eat healthfully and creatively. Her sushi skips the raw fish and substitutes colorful and delicious veggies, black rice and condiments.
May 18 - Plant Swap
Bring up to three established plants (no cuttings, please) to trade. Each participant will get a number. A random drawing will determine the first person to start the swap. That initial person can pick any plant. The owner of the plant chosen goes second, and this process continues until everything is selected.
May 25 — Ageless Grace®
"It's never too late to begin, it's never too early to start." Let's take brain neuroplasticity and ramp up the mind-body connection for longevity, brain power and fitness. Certified educator Joy Brown demonstrates this surprisingly easy and fun practice.
Call the library at 281.290.3214 for L.I.F.E. program information or go online to LoneStar.edu.