Lone Star College-CyFair's Phi Theta Kappa Beta Lambda Mu Chapter began this academic year as 2015 Student Organization of the Year and finished this year with numerous individual and chapter regional and international recognition.
"Our Phi Theta Kappa chapter is the strongest it has been in years. (Former chapter advisors) Susan and Jeff Edwards started the chapter and laid a very strong foundation that we've tried to build on the past three years," said Dr. Blake Ellis, co-advisor with Dean Daniel Villanueva. "This year, we were named a Distinguished Chapter, placing us in the top 35 out of more than 1,300 chapters in the world. That recognition speaks to the success of our students."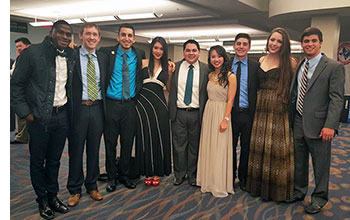 The 2015-2016 student officer team includes Skyeler Aguado, Ali Fawaz, James Harney, Rey Laurencio, Estefania Palacios, Thuy Pham and Daniel Varela.
"I can't say enough about how impressive these students are," said Dr Ellis. "They have conducted high-level academic research, demonstrated a commitment to service at the college and worked hard to create positive change in the community."
Among some of the service projects this year were "Adopt an Adjunct: Supporting Faculty through Student Success" and the chapter's recent efforts to gather supplies for flood relief victims in the community.
"My co-advisor, Dean Villanueva, has been instrumental in our chapter's success. We work very well together and his administrative knowledge allows us to accomplish things that other chapters would find impossible," said Dr. Ellis. "That type of administrative support is crucial to the success of our students."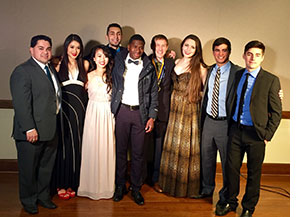 As a team, this chapter returned from the 2016 regional conference in Waco with the Texas Top Chapter Award as well as the Honors in Action and College Project Awards of Distinction. Individual recognition includes student officer Varela receiving the Chapter Officer Hall of Honor while Dean Villanueva and Dr. Blake earned Distinguished Administrator and the Horizon Award, respectively.
Last month, this chapter traveled to Washington, D.C. for the Phi Theta Kappa International Convention. In addition to Distinguished Chapter, Beta Lambda Mu won Distinguished Chapter Officer Team Award and Distinguished Honors in Action Project (one of the top 25 projects internationally.) Individually, Varela won the Distinguished Chapter Officer Award and Aguado won the Oberndorf Lifeline to Completion Scholarship. Two other academic successes includes Aguado, who received the 2015 Walter B. Cooper Memorial Scholarship and Laurencio, who was named a national semi-finalist for the prestigious Jack Kent Cooke Scholarship.
"Aside from these awards, our students also participated in the Phi Theta Kappa Academy, a two-day experiential leadership exercise that enhanced their learning opportunities at the convention," said Dean Villanueva. "Students were also able to visit the Martin Luther King, Jr. Memorial, the Washington Monument, the Jefferson Memorial, Lincoln Memorial, Vietnam War Memorial, Korean War Memorial, World War II Memorial and Georgetown University."
This spring, an additional 153 students were inducted into Beta Lambda Mu bringing the total membership to more than 1,200 students.
"Not only do the officers who represent our membership achieve great successes, so do members like Ya Xing Li, who was recently honored as one of only 20 All-USA Community College Academic Team scholars," said Dean Villanueva. "We are proud of all our many members who are demonstrating such excellence on their academic journey toward their career goal. We look forward to another year of individual and chapter success stories."
For information on this honor society that promotes and provides opportunities for scholarship, leadership, service and fellowship, email Blake.A.Ellis@LoneStar.edu or Daniel.Villanueva@LoneStar.edu, or go to LoneStar.edu/clubs-cyfair.