A record number 7,032 Lone Star College students were eligible to take part in commencement ceremonies to receive their associate degrees or certificates this year representing a 9 percent increase from 2014-15.
The ceremonies for six Lone Star Colleges took place May 13 and 14.
"This time of the year is always extra special," said Dr. Stephen C. Head, LSC chancellor. "This is when our students get to enjoy the results of their hard work and efforts. They should all be very proud of their accomplishments."
LSC has long been recognized as a leader in helping students succeed. Community College Week magazine named Lone Star College a Top 10 producer of associate degrees, ranking fifth nationally among all community colleges in the U.S. on the 2015 list of Top 100 Associate Degree Producers.
In addition, The Hispanic Outlook in Higher Education Magazine has named LSC a Top 25 College for Hispanics. LSC was ranked third in the nation for the number of Hispanic students enrolled and was ranked third for the number of associate degrees awarded.
For 2014-15, 6,450 LSC students received their associate degree or certificate compared to the 7,032 students who graduated this year.
"I am also extremely proud of the work done by our faculty and staff whose tireless efforts help Lone Star College students succeed," said Head.
LSC commencement speakers included:
LSC-CyFair

Gail Marxhausen, (Professor of Education)

LSC-Kingwood

Jamel M. Rosemond (Class of spring 2016)

Sharon D. Spencer (Class of 2015)

LSC-Montgomery

Juan Lebron (Faculty counselor)

Riley Young (Class of 2016)

LSC-North Harris

Armando Walle (Texas State Representative)

LSC-Tomball

Rama Gerig (LSC-Tomball Alumni)

Gerald Hallford (Class of 2016)

LSC-University Park

Edward M. Emmett (Harris County Judge)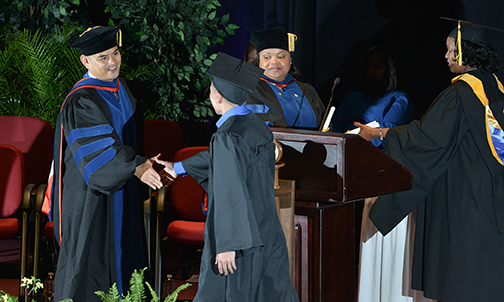 Lone Star College awarded a record 7,032 associate degrees and certificates during its recent graduation ceremonies. Pictured (left to right) are Dr. Gerald Napoles, LSC-North Harris president, a LSC student,Dr. Valschkia Dabney, vice president, Centers, and Carolyn Wade, interim vice president, Student Services.
According to an Economic Modeling Specialists International report, 91 percent of Lone Star College students stay in the LSC service area. The report concludes "their enhanced skills and abilities bolster the output of local employees, leading to higher regional income and a more robust economy."
Known for its leadership, innovation and steadfast commitment to student success, Lone Star College provides high-quality academic transfer and workforce education / career training programs to more than 83,000 credit students each semester, and a total enrollment of 95,000 students. LSC is training tomorrow's workforce today and redefining the community college experience to promote student success and economic prosperity. Stephen C. Head, Ph.D., is the chancellor of LSC, the largest institution of higher education in the Houston area, which consists of six colleges, eight centers, two university centers, Lone Star Corporate College and LSC-Online. To learn more visit LoneStar.edu.
####