Graduating the largest class in Lone Star College-CyFair's history with more than 2,300 students was only one milestone this year. Recognized among 523 graduates at May's commencement were 17 members of the inaugural cohort of Honors College Chancellor's Fellows.
This elite group of graduates included Kyra Aftosmes, Lyvia Alvarez, Chantal Badillo, Tareasha Bell, Taylor Carter, Ana De Angulo, Estephany Hernandez, Laura Howell, Kody Kitchen, Ya Xing Li, Alessandra Napieralski, Anh (Dao) Nguyen, Huy Phan, Sandra Pineda, Jordan Snow, Duyen Vo and Kennedy Williams.
"These students exemplify the importance of providing an opportunity for academically gifted high school students to improve the research, writing and presentation skills necessary to be successful as they transfer to the next stage of their academic career," said LSC-CyFair Honors College Director Esther Robinson.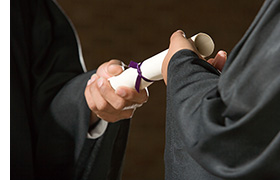 With passion, positivity, hard work and persistence, these students supported each other for two years as they gained confidence in their abilities to succeed. Robinson has many stories of success these students have achieved since the cohort's start in 2014.
For example, Li, the only student selected for early admission for the cohort, overcame challenges, such as language barriers, homelessness, and working three jobs to help support her family while being a full-time student, to earn her associate's degree. This Student Ambassador and Phi Theta Kappa member's determination to do her best every day earned her many scholarships. In addition to being a national semi-finalist for the prestigious Jack Kent Cooke Scholarship, awarded the Gee Foundation Scholarship and named to the Texas All-Academic Team, she received a $5,000 award as one of 20 students nationwide chosen to be on the All-USA Community College Academic Team. Li is on track to transfer to the University of Houston and become a college-level finance teacher.
Another student has shined as an artist while at LSC-CyFair. A Robert McGehee Scholarship recipient earned for her artistic endeavors, Alvarez won first place in the 2015 Student Art Exhibition for her painting "Harvest." More recently, she presented her upcycling paintings created with recycled paint and materials honors project at the Student Symposium and The Honors College Undergraduate Research Day. She will also do an upcycling art workshop for L.I.F.E. this summer.
In addition to academic success, the cohort experience has had many other benefits that will impact the students as they continue their education and begin their careers.
"My experience as a Honors College Chancellor's Fellow has taught me a lot about myself and what I am capable of," said Williams, who plans to transfer to a Bachelor of Science nursing program at either PVAMU or TWU.  "I have not only grown as a student but also as an individual."
De Angulo, who plans to study psychology at the University of Texas at Austin, said participation in the cohort prepared her for future academic endeavors, set her apart from other transfer students and helped her gain confidence to take on new educational experiences.
"By taking several classes with the other fellows, who shared similar educational aspirations, I was able to form irreplaceable bonds of friendship that supported me throughout the semesters," she said. "Experiencing the Honors College International capstone trip to Italy challenged my worldly perspective and helped me break out of my educational comfort zone."
While Napieralski admits being nervous about the cohort at first and that honors classes were a bit challenging at times, she said it was worth it in the end and recommends the program to others.
"The program has helped me with presentation skills and build up my critical thinking to a new level that will allow me to be successful," said Napieralski, who feels more than prepared to transfer to the University of Houston. "Being able to go to college surrounded by students who really care about their education has been a wonderful experience that I will never forget."
For information on applying for LSC-CyFair's next cohort of Honors College Chancellor's Fellows, go to LoneStar.edu/HonorsCollegeFellows or email CyFairHonors@LoneStar.edu.