Attendees at Lone Star College-CyFair's weekly programs this June will enjoy topics related to summer reading, drones, New Orleans Style literature and movies, essential oils and Australia.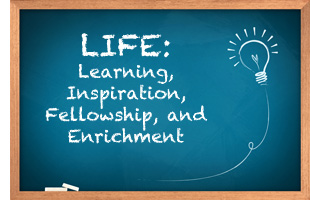 The Learning, Inspiration, Fellowship, and Enrichment (L.I.F.E.) programs are free and held Wednesdays from 10 a.m. to 11 a.m. in the library (Room 131 unless otherwise noted) at 9191 Barker Cypress.
June 1 — It's Summertime and the Reading Is Fantastic
Blue Willow Book Shop owner Valerie Koehler gives us the inside scoop on some of her favorite new summertime books. Launching the library's Summer Reading Program (SRP) for Adults. Meet in LRNC 215.
June 8 — Bring in the Drones
Professor Buck Buchanan found amazing uses for drones or Unmanned Aerial Vehicles (UAV) at Lone Star College. Learn about how drones will change the face of our world in the near future. Meet in LRNC 144.
June 15 — Literature and Movies - New Orleans Style
Let's get literary with a whirlwind tour of New Orleans and the books and movies that come from or were inspired by the Big Easy. Scott Furtwengler presides. Meet in Recital Hall ARTS 102.
June 22 — Essential Oils
Be your own family physician with essential oils. Join us as we learn to save money by using essential oils for almost any issue we might encounter in the home. Take control of your health naturally with Stephanie Kutterer of doTERRA essential oils. Meet in LRNC 144.
June 29 — Take a Trip Down Under, Mate
Abraham Korah leads us on outback wanderings on the smallest continent, Australia, specifically Sydney, Melbourne, and Cairns on the eastern coast. Meet in LRNC 144.
Call the library at 281.290.3214 for L.I.F.E. program information or go online to LoneStar.edu