Lone Star College-CyFair's Center for Student Life welcomes new students with a comprehensive and interactive College Survival Camp Aug. 26 – 28.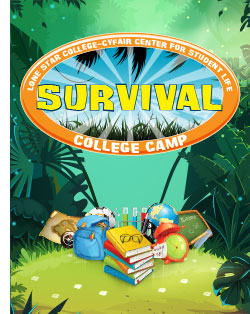 This weekend survival camp, available to enrolled Fall 2016 students, will help provide attendees a successful transition into student life as well as an opportunity to learn innovated skills on how to excel in college.
Held at Camp Allen in Navasota, Texas, the LSC-CyFair College Survival Camp includes a weekend stay, meals, transportation, leadership workshops, a team-building rope course, mock classrooms and more. Attendees will also have the opportunity to meet other new students as well as the 2016-2017 student leadership.
A $25 deposit, required to secure a spot at the camp, is due by Aug.1 to the Center for Student Life, located in the Learning Commons building, room 144, at 9191 Barker Cypress.
Sorry! We are at capacity for students attending Camp Allen! We hope to hold this event again in 2017.
For information, call 281.290.3442 or email centerforstudentlife@lonestar.edu.