As part of an effort funded by the Walmart Foundation, Lone Star College is providing English language training to Kroger employees to increase their English proficiency and improve their communication skills.
The project, Skills and Opportunity for the New American Workforce, is made possible by a grant awarded to the National Immigration Forum by the Walmart Foundation.
"Lone Star College offers a wide variety of workforce training," said Dr. Stephen C. Head, LSC chancellor. "We understand part of that training includes making sure the local workforce is proficient in English, which can play a major role in determining wages and providing a pathway for career advancement."
The program, led by New American Workforce, a project of the National Immigration Forum in conjunction with the Walmart Foundation, focuses on the retail sector which has one of the highest levels of limited-English-proficient workers.
"Retail companies are eager to get involved, because they understand the profound impact that improved access to educational opportunities can have on advancement, retention, improved work quality and economic success," said Ali Noorani, National Immigration Forum, executive director.
The classes are taught by Lone Star College ESL instructors.
"We're hoping to convince people to register for other continuing education English classes and maybe become inspired to take some of the career courses," said Mark Yorke, LSC ESL instructor. "They're realizing they can do basic grammar correctly. Hopefully it will impact how they communicate and will improve job opportunities."
Skills and Opportunity for the New American Workforcelasts 12 weeks and is designed to increase English language skills among retail sector employees for whom English is a second language. Each class meets one day a week at various LSC campus locations and also requires online work. For some, it is their first time using a computer.
"My children teach me but I need to learn myself," said student Rocio Amezquita, who has worked for 10 years as a clerk in the Kroger deli department. "I want to do my best work. I want to speak better to customers and give good customer service."
Lone Star College was selected for this initiative because of its ESL programs and expertise with contextualized instruction, where career-focused courses and industry-based materials are used to teach both technical skills and basic academic skills, such as English language skills.
"This program further demonstrates the important role Lone Star College plays in our community," said Head. "Providing necessary language skills gives these students an opportunity to better their lives."
"I feel that I'll learn," said Gladys Ramirez, who has worked in the Kroger bakery for 11 years. "My dream is to learn English to help my grandkids and my customers."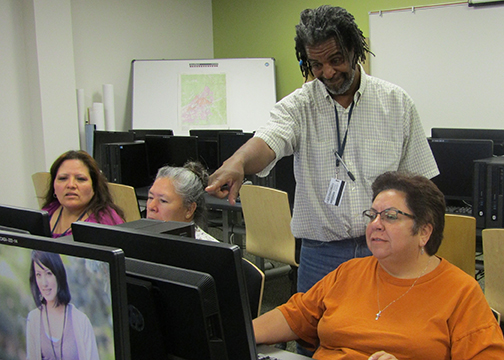 Lone Star College ESL instructor Mark Yorke works with Kroger employees
(left to right) Maria Aguilera, Lilia Gutierrez and Luz Salcido to help improve their English skills.
Known for its leadership, innovation and steadfast commitment to student success, Lone Star College provides high-quality academic transfer and workforce education / career training programs to more than 83,000 credit students each semester, and a total enrollment of 95,000 students. LSC is training tomorrow's workforce today and redefining the community college experience to promote student success and economic prosperity. Stephen C. Head, Ph.D., is the chancellor of LSC, the largest institution of higher education in the Houston area, which consists of six colleges, eight centers, two university centers, Lone Star Corporate College and LSC-Online. To learn more visit LoneStar.edu.
####