Lone Star College students will find a simpler way to transfer to Texas Southern University thanks to a new agreement between the two institutions.
"It is important Lone Star College students interested in transferring to Texas Southern University find a clear and seamless pathway which allows them to complete their degrees," said Dr. Stephen C. Head, LSC chancellor. "This new partnership goes a long way toward helping them achieve their goals."
More than 700 LSC students transferred to TSU in fall 2015.
The agreement, which was celebrated with a signing ceremony June 29 at the LSC-Victory Center, provides that application fees will be waived for LSC students and students are eligible to apply for General University Transfer scholarships valued up to $3,000 each. The new partnership also includes joint admission for students and cooperative advising which allows a student access to academic advisors at both institutions for the purpose of planning and selecting courses applicable to their degree program.
TSU offers more than 100 undergraduate and graduate programs and concentrations, a diverse faculty, 80-plus student organizations, and an extensive alumni network comprised of educators, entrepreneurs and public servants. Located in the heart of Houston, TSU is one of the nation's largest historically black universities.
"We want to make sure Lone Star College students have a pathway to a successful life," said Alton Smith, LSCS Board of Trustees member. "I am a witness that education gets you out of the poor house."
The new agreement also establishes a framework for the future development of articulation for specific programs.
"Texas Southern University has a long and rich history of providing its students with an exceptional education leading to better lives and we are proud to join them in this very important endeavor," said Head.
Officials from both colleges, including Dr. Head and Dr. Austin Lane, TSU president, were on hand at LSC-Victory Center to sign the agreement and officially launch the partnership. They were joined by LSCS Board of Trustees members Alton Smith, Ken Lloyd and Art Murrillo. Also in attendance were TSU Board Chairman, the Honorable Derrick Mitchell; State Rep. Jarvis Johnson, Dist. 139; and community leader Roy Malonson.
LSC has agreements offering seamless transition from a LSC associate degree to bachelor's degrees with many other universities in Texas and nationwide. For more information go to LoneStar.edu/Academic-Programs-Transfer.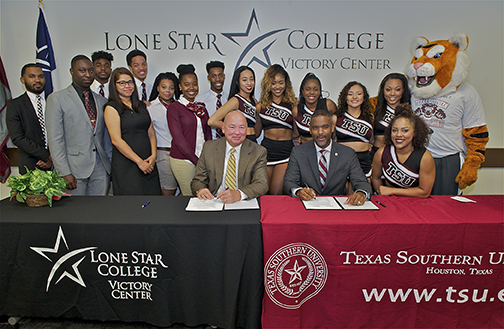 Lone Star College and Texas Southern University form a partnership
to help aid students wanting to transfer.
Pictured seated are (left to right), Dr. Stephen C. Head, LSC chancellor
and Dr. Austin Lane, TSU president
with TSU students, cheerleaders and Aristocat the Tiger.
(Photo Credit-Earlie Hudnall, TSU)
Known for its leadership, innovation and steadfast commitment to student success, Lone Star College provides high-quality academic transfer and workforce education / career training programs to more than 83,000 credit students each semester, and a total enrollment of 95,000 students. LSC is training tomorrow's workforce today and redefining the community college experience to promote student success and economic prosperity. Stephen C. Head, Ph.D., is the chancellor of LSC, the largest institution of higher education in the Houston area, which consists of six colleges, eight centers, two university centers, Lone Star Corporate College and LSC-Online. To learn more visit LoneStar.edu.
####