College students weren't the only ones learning and having fun at Lone Star College-CyFair this summer. Hundreds of visitors from toddlers to teens participated in Club Rewind program, Discovery College and a Summer Reading Program.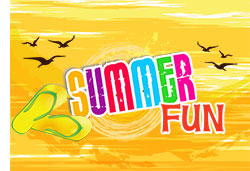 In mid-July, some 700 Cy-Fair Independent School District Club Rewind students enjoyed an inaugural two-day field trip on the Barker Cypress campus.
The elementary and middle school visitors took an educational nature campus walk during which they saw bat houses, solar panels, wind turbines, lakes and more. Following lunch, they filled the Main Stage Theatre to see LSC-CyFair's summer children's show "Freckleface Strawberry: The Musical." 
Heather Scanio, LSC-CyFair Fine Arts Coordinator, said students had a safe, educational and fun experience on the campus thanks to logistical help from Isaac Cantu, who works for LSC-CyFair and CFISD Club Rewind, and numerous LSC-CyFair employees, Division III and facilities staff as well as Center for the Arts volunteer staff.
The annual Discovery College program for ages 9 to 14 drew almost 400 community children to participate in four weeks of programs in June and July designed to engage them in Science, Technology, Engineering (Art) and Mathematics (STEAM.)
Among some favorite programs this year were: hands-on activities in "Bubbly Oozy Science" class; building, operating, testing and debriefing results in "Robotics" class; learning how various infrastructures and homes are designed and built in "Junior Architects" class; sharpening skills in friendly competitions after creating their own games using candy as board pieces in "Math Games" class; and embracing the dance arts that included a performance for parents and other program attendees in "Hip Hop Moves" class.
With a theme of "On Your Mark, Get Set, Read!", the Summer Reading Program at the Harris County Public Library LSC-CyFair Branch drew more than 10,000 children and adult participants for Kids Corner literacy programs as well as nearly 1,000 teens and 100 adults for numerous programs and activities June 6 through Aug. 6.
Participants of all ages earned prizes, such as t-shirts, earbuds, new classic and contemporary books, a pin in the shape of a sneaker for adults, just for reading. 
The Kids Corner weekly storytime programs began with 141 children registered for "Challenge Emma with Exercise Moves" - a Simon Says exercise game in which the children jumped at the chance to show their strength and endurance, and flex their bicep muscles with Emma, a National Charity League volunteer. In addition, community partners HEB and Peter Piper brought mascots Buddy and Rocky, who gave away Buddy bucks and bottled water, and free pizza coupons.
Other Kids Corner program favorites included "Puppet Pizzazz" - puppetry performance and "Let's Move!" - Hip Hop dancing, "Zumba for Kids", Julian Franklin's puppet fun with magic tricks and "Nature Discovery Center" – featuring various species of birds, fish, reptiles, amphibians and mammals.
Among other Summer Reading Program highlights were: L.I.F.E.'s "It's Summertime and the Reading Is Fantastic" kick-off program for adults with the owner of the Blue Willow Book Shop Valerie Koehler giving her picks for great summer reads and teen program activities such as board games, book clubs, "Chill Skills" focused on anger management coping skills, socialization skills, respect, positive self-esteem and bullying and "Creative Writing for Teens & Tweens" with local authors.
For information on campus events open to the community, go to LoneStar.edu/cyfair.