The fall semester of weekly programs at Lone Star College-CyFair kicks off in September with topics such as burial customs, vegetarian dishes, eclectic dance performance video and yoga.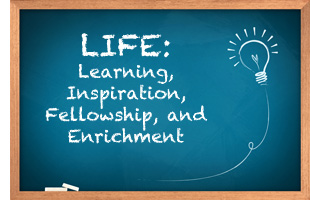 The Learning, Inspiration, Fellowship, and Enrichment (L.I.F.E.) programs are free and held Wednesdays from 10 a.m. to 11 a.m. in the library (Room 131 unless otherwise noted) at 9191 Barker Cypress.
September 7 — Burial Customs of Slaves
LSC-CyFair Assistant Professor of Anthropology David Bruner describes the African influence on the burial customs of African-American slaves. Professor Bruner's high-tech research methods on burial and funeral sites in Cypress shed light on the use of African customs to further culture and solidarity.
September 14 — Eat More Plants
Librarian Valerie Davis says it's OK to "veg out" when eating. Watch her demonstrate how to make fabulous vegetarian dishes to enhance meals with more plant-based ingredients.
September 21 — Dance Salad Video Performance
Join us for an inspiring video of original and eclectic dance from around the world. Jackie Alfred, Dance Salad's Director of Development, gives expert commentary. Meet in ARTS, Recital Hall 102.
September 28 — Yoga to the Core
Feeling tense? All tied up in knots? Take a deep breath and try some easy yoga stretches and movements. Librarian Jane Stimpson provides background on the practice of yoga and shares exercises you can do anywhere to improve mood, flexibility, and core strength.
Call the library at 281.290.3214 for L.I.F.E. program information or go online to LoneStar.edu.