Don't miss "The Art of Sales: Secrets to Becoming a Top Salesperson" at the first of the fall semester's Speaking of Business Series set Sept. 22 at Lone Star College-CyFair.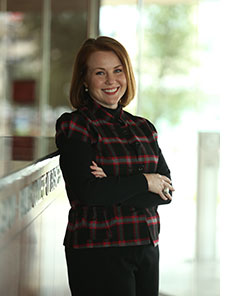 Learn the importance of sales, communication and professionalism in any environment with Amy Vandaveer, a Bauer College of Business marketing professor and an executive trainer for Fortune 500 companies. A two-time excellence in teaching award winner, Vandaveer also has more than 11 years corporate experience in recruiting, sales, marketing and training.
Today's market demands a new set of skills for those who seek to help their companies thrive in the new sales environment. Hiring a sales force that understands buyer needs and demonstrates expertise in product knowledge is a top priority for successful organizations.
"Join Amy as she shares her sales expertise and the importance of honing your presentation and communication skills and building your self-confidence," said Ellen Junious, LSC-CyFair business professor and series coordinator. "By focusing on building a foundation of sales skills, you can become a top salesperson, whether you are in accounting, economics, logistics or any other industry."
Light refreshments will be served at this event held from 1 p.m. – 2:30 p.m. in the Conference Center at 9191 Barker Cypress; however, space is limited.
 The free Speaking of Business Series is designed to enhance the personal and professional development of future business and community leaders.
Sponsoring this series is LSC-CyFair's Business and Communication Studies Division. For information, contact Junious, at 281.290.3511.