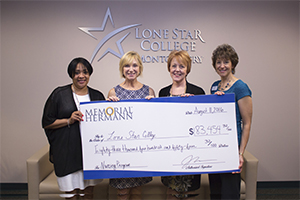 Memorial Hermann The Woodlands Hospital recently presented a check to the Lone Star College-Montgomery nursing program to fund a faculty position to help meet the critical need for nurses in the community. Pictured (left to right) Dr. De'Reese Reid Hart, dean of the natural sciences and health professions division at Lone Star College-Montgomery; Catherine Giegerich, chief nursing officer, Memorial Hermann The Woodlands; Dr. Rebecca Riley, president of LSC-Montgomery; and Julie Kendall, director of nursing, LSC-Montgomery.
Memorial Hermann The Woodlands Hospital and Lone Star College-Montgomery are invested in getting the community the qualified nurses and medical care it needs.
For the eighth straight year, the hospital is supporting LSC-Montgomery with a dedicated salary for an additional nursing faculty member. This year's contribution of $83,454 brings the total to nearly $600,000 since 2008.
"Memorial Hermann's investment allows us to provide high quality instruction in our nursing program," said Dr. Rebecca Riley, president of LSC-Montgomery. "Recent research shows that patient outcomes improve with greater levels of nursing education. Lone Star College provides those learning opportunities close to home. Help from partners like Memorial Hermann The Woodlands strengthens the education of all the future nurses in our community."
The mission of nursing at Memorial Hermann Health System is to provide exceptional outcomes by providing compassionate, quality care focusing on the unique needs of patients and their families. Catherine Giegerich, RN, BSN, MS, FACHE, Chief Nursing Officer at Memorial Hermann The Woodlands, said LSC-Montgomery nursing graduates stand out and are often hired after completion of their nursing curriculum.
"Lone Star College graduates come from the community and that is a huge advantage," Giegerich said. "They know the area, they are taking care of their neighbors, friends and family and that gives them a level of engagement that is difficult to pass up when hiring. Memorial Hermann The Woodlands has grown by keeping the community's needs at the heart of our strategy, we have provided exemplary care in this area for more than 30 years and this relationship with LSC-Montgomery exists because of the need residents and neighbors have generated."
Lone Star College-Montgomery programs are developed to meet expanding career demands. Nursing and health occupations are expected to grow in Montgomery and surrounding counties in the coming years. This growth is due technological advancements; an increased emphasis on preventative care; and the large, aging baby-boomer population which will continue to push the demand for quality health care services as these individuals lead more active and longer lives.
LSC-Montgomery offers several nursing programs, including the associate degree nursing (ADN) track, licensed vocational nursing (LVN), and a transition to professional nursing track for those LVNs and paramedics desiring to pursue the ADN track.
Julie Kendall, MSN, RN, CNE, Director of Nursing Programs at LSC-Montgomery, said the nursing program requires intense faculty interaction; one more instructor can make all the difference in students' education.
"The continuation of faculty helps ensure that the students have the individual attention that they need in order to be successful," said Kendall. "Additional faculty help us maintain high standards of excellence for our graduates."
For more information on LSC-Montgomery's nursing program, visit LoneStar.edu/nursing-dept-montgomery; or call 936.273.7030.
For more information on current nursing openings at Memorial Hermann, visit memorialhermann.org/careers/
Memorial Hermann is a fully integrated health system with more than 250 care delivery sites throughout the Houston region, including a nationally acclaimed Accountable Care Organization, it is committed to delivering safe, high-quality, patient-centered care. Memorial Hermann offers world-class clinical expertise, innovation and leading-edge technology to all patients and to its Health Plan members. The system, with its exceptional medical staff and more than 25,000 employees, provides compassionate, superior service while advancing health in Southeast Texas.
LSC-Montgomery is located at 3200 College Park Drive, one-half mile west of Interstate 45, between Conroe and The Woodlands. For more information about the college, call 936.273.7000, or visit LoneStar.edu/Montgomery.
Known for its leadership, innovation and steadfast commitment to student success, Lone Star College provides high-quality academic transfer and workforce education / career training programs to more than 83,000 credit students each semester, and a total enrollment of 95,000 students. LSC is training tomorrow's workforce today and redefining the community college experience to promote student success and economic prosperity. Stephen C. Head, Ph.D., is the chancellor of LSC, the largest institution of higher education in the Houston area, which consists of six colleges, eight centers, two university centers, Lone Star Corporate College and LSC-Online. To learn more visit LoneStar.edu.