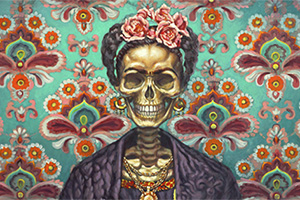 Work from artist Hector Guerra will be showcased at Lone Star College-Montgomery beginning Monday, Oct. 10 through Wednesday Nov. 2 as part of the exhibit "Bienvenidos Seres Queridos/Welcomed Loved Ones."
Curator Charlie Peña presents "Bienvenidos Seres Queridos/Welcomed Loved Ones," an exhibit celebrating Dia de los Muertos or Day of the Dead at Lone Star College-Montgomery. The art will be on display beginning Monday, Oct. 10 through Friday Nov. 4. at the
Mary Matteson-Parish Art Gallery
.
The opening reception is Monday, Oct. 10 at noon and a closing reception Wednesday Nov. 2 at noon. The exhibition and receptions are open to the public and free to attend.
"Bienvenidos Seres Queridos/Welcomed Loved Ones," honors our loved ones, past, present and future," said Peña. "Every year, we celebrate birthdays and Dia de los Muertos or Day of the Dead is the one day we can remember our loved ones who have passed on."
A common symbol of the holiday is the skull. "Visitors will see interpretations of death from various artists," said Peña. "Art surrounding Dia de los Muertos or Day of the Dead is not meant to frighten anyone. We are here to educate and explain what this celebration is all about."
Featured artists include Jose Guadalupe Posada, Carlos Hernandez, Francisco Franco, Kristie Odom, Hector Guerra, Jeff Garcia, Patrick McGrath Muñiz, Jose Olvera, Carlos Barberena and Special Guest Artist, Dr. Rebecca Riley President of LSC-Montgomery.
"We are excited to offer this group exhibition," said Robby Wood, LSC-Montgomery ceramics professor. "It is a good example of using art to celebrate loved ones that have passed away."
The North Houston Hispanic Chamber of Commerce
will be holding its own events to celebrate and encourage attendance at the exhibit. Join them, Monday, Oct. 10 at 6 p.m. just outside the Mary Matteson-Parrish Art Gallery, around the water foundation for another opening reception featuring Aztec dancers with drums and incense inviting all to enter the gallery.
The Mary Matteson-Parrish Art Gallery is open Monday – Friday from 10 a.m. – 5 p.m. and is located on the first floor of Building D.
For more information, please contact Latoya Robinson at
Latoya.Robinson@lonestar.edu
or 936.273.7401
LSC-Montgomery is located at 3200 College Park Drive, one-half mile west of Interstate 45, between Conroe and The Woodlands. For more information about the college, call 936.273.7000, or visit
LoneStar.edu/Montgomery
.
Known for its leadership, innovation and steadfast commitment to student success, Lone Star College provides high-quality academic transfer and workforce education / career training programs to more than 83,000 credit students each semester, and a total enrollment of 95,000 students. LSC is training tomorrow's workforce today and redefining the community college experience to promote student success and economic prosperity. Stephen C. Head, Ph.D., is the chancellor of LSC, the largest institution of higher education in the Houston area, which consists of six colleges, eight centers, two university centers, Lone Star Corporate College and LSC-Online. To learn more visit
LoneStar.edu
.