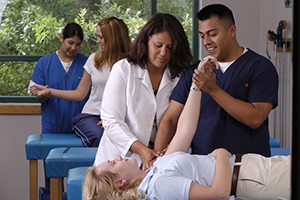 Dr. Renee Pruitt (standing in white coat), director of Montgomery College's physical therapist assistant (PTA) program, leads students in the college's PTA lab to a perfect board pass rate
     

Graduates of Lone Star College-Montgomery's physical
therapist assistant (PTA) program continue to pass national licensing boards with flying colors. In fact, Dr. Renee Pruitt, PTA program director at LSC-Montgomery, indicates that graduates have passed at a remarkable rate of 100 percent for over seven years now. Last year was also the third time for the LSC-Montgomery PTA class to achieve a 100 percent first-time board pass rate.

The PTA program is a rigorous, five-semester course of study with a very competitive admissions program. Students who have successfully mastered general education courses at any of the campuses in the Lone Star College System have historically been the most successful in gaining admittance.

Dr. Pruitt estimates the program gets 100 to 125 applications each year, but only 30 students are accepted.  She feels the competitive admissions process, a low teacher-to-student ratio, and the camaraderie among students are just a few contributing factors to their high pass rate.

"Once in the program," Pruitt says, "students are treated as a cohort, with lots of collegiality; and it helps that the faculty is extremely stable and the college is accredited."

LSC-Montgomery's PTA program has been in existence for 20 years and boasts three tenured full-time, doctoral-prepared professors, as well as two adjunct professors. Pruitt has been a professor for 13 years; Dr. Nanette Meyer, clinical coordinator, has been a faculty member for 18 years, and Dr. Linda Carlson has been a professor for 10 years. All three worked as physical therapists before choosing to teach, bringing firsthand knowledge and hands-on experience to the program to boost the passing rate.

LSC-Montgomery's PTA program is accredited through the Commission on Accreditation in Physical Therapy Education and concentrates on "the depth and breadth of knowledge that is required to pass the national exam," Pruitt said.

"Passing a national board exam is extremely important to our students and their families," Pruitt said. "If they don't pass, they aren't hired. But, if they do pass, the economic benefit and stability within the field is significant."

Pruitt indicates that about 75 percent of the PTAs practicing in our area graduated from LSC-Montgomery and, in 2013, graduates who became licensed earned 7.3 percent more than the average graduate with a bachelor's degree.

PTAs provide assistance to patients by implementing the plan of a physical therapist and can work in hospitals, outpatient facilities, rehabilitation facilities, home health settings, schools, fitness centers and sports medicine clinics.

For more information about LSC-Montgomery's PTA program, visit www.LoneStar.edu/physical-therapist-assistant-dept-montgomery.

LSC-Montgomery is located at 3200 College Park Drive, one-half mile west of Interstate 45, between Conroe and The Woodlands. For more information about the college, call 936.273.7000, or visit LoneStar.edu/Montgomery.

Known for its leadership, innovation and steadfast commitment to student success, Lone Star College provides high-quality academic transfer and workforce education / career training programs to more than 83,000 credit students each semester, and a total enrollment of 95,000 students. LSC is training tomorrow's workforce today and redefining the community college experience to promote student success and economic prosperity. Stephen C. Head, Ph.D., is the chancellor of LSC, the largest institution of higher education in the Houston area, which consists of six colleges, eight centers, two university centers, Lone Star Corporate College and LSC-Online. To learn more visit LoneStar.edu.