Attend a conversation on higher education's role in society at the Lone Star College-CyFair's next Center for Civic Engagement (CCE) community deliberative dialogue set Oct. 31.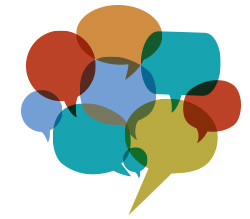 This conversation explores answers to important questions such as: What role should colleges and universities play in today's society? Is the accumulation of student loan debt inevitable and a "necessary evil" in pursuit of one's career aspirations? Who are schools responsible to: The market? The community? Both? Are schools adapting quickly enough to prepare students for the complex marketplace that is dominated by technology?
Join this Deliberative Dialogue: "The Changing World of Work: What Should We Ask of Higher Education?" from 10 a.m. to noon in the Conference Center on the LSC-CyFair campus at 9191 Barker Cypress. 
One of the CCE's goals is to get people thinking about actions they can take to address challenges in their immediate community and the broader society.
For event information, contact Professor Melanie Steel via phone at 281.290.3906 or email Melanie.Steel@LoneStar.edu.