Lone Star College-CyFair's Noah Miller received the Walter B. Cooper Memorial Scholarship, which he said was a tangible reward for hard work put in on his way to a career in public service.
"Law is appealing to me because I have noticed that every industry and feature of our society interacts with the law in one way or another," said Miller, who is currently majoring in economics and is interested in both practicing civil trial law and studying constitutional law. "Public service seems exciting, because you get to represent and serve others through the instrument of law and public policy."
The $500 scholarship awarded at the recent Phi Theta Kappa Texas Leadership Conference is just another motivation for Miller to keep pushing toward his dream.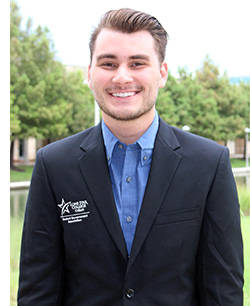 The Texas Region Alumni Association presents this scholarship in memory of Walter B. Cooper. He was an advisor for the Alpha Gamma Pi chapter of Phi Theta Kappa at Austin Community College in Austin, Texas, who advised students how to become well-rounded individuals in each of the honor society's hallmarks.
"Noah Miller is a rising star in the Texas Region of Phi Theta Kappa," said Debbra Esparza, Texas Regional Coordinator for Phi Theta Kappa and LSC Executive Director of Organizational Development.  "His pursuit of academic excellence and extraordinary leadership ability make him the perfect recipient for this honor. I look forward to seeing what lies ahead for Noah."
Miller began his college journey in 2013 as an LSC-CyFair Dual Credit student making mediocre grades and returned in 2015 where he excelled academically and now works in the Enrollment Management Department as Student Ambassador. 
"I had a pretty rough experience at an out-of-state university, but my journey at LSC-CyFair has really turned things around," said Miller. "Faculty, my Phi Theta Kappa advisor and countless administrators fight tooth and nail to see their students succeed. That isn't something that you can guarantee at large research-oriented schools."
Having taken on a leadership role of Vice President, Honors in Action in Phi Theta Kappa and getting involved in campus life at LSC-CyFair, Miller said he feels he's a part of something bigger than himself. The next step in his journey is to transfer to the University of Texas at Austin.
"Noah is a leader in our chapter and across the campus. I'm constantly impressed with his intellectual curiosity, his commitment to service and his inclusive approach to leadership," said LSC-CyFair's Beta Lambda Mu chapter advisor Dr. Blake Ellis.
Last year's LSC-CyFair recipient of the Walter B. Cooper Memorial Scholarship, Skeyler Aguado, went on to become a Terry Transfer Scholar, said Ellis. This year, two fellow Phi Theta Kappa members, Daniela Markovic and Raven Campos, also earned scholarships at the recent conference, including the Dr. Mary Hood Scholarship and Texas Star Scholarship, respectively.
"These scholarships are among the most prestigious awarded by Phi Theta Kappa. Our students' success speaks to their academic achievements, their leadership abilities, and their commitment to service," said Dr. Ellis. "I am looking forward to seeing all that they accomplish in the coming year."
For information on Phi Theta Kappa at LSC-CyFair, contact Dr. Ellis at Blake.A.Ellis@LoneStar.edu.