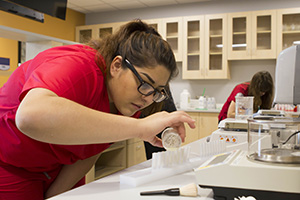 Flexibility in work schedule, attractive compensation, and a positive job outlook are all reasons why the field of pharmacy technology is growing. According to the U.S. Bureau of Labor Statistics, the increasing number of older people requiring medication as well as advances in pharmaceutical research are expected to cause a 32 percent increase in the employment of pharmacy technicians in the 2010-20 period. To allow for more applicants to take advantage of local training opportunities, the Lone Star College-Tomball's pharmacy technician program has extended its application deadline for the spring 2017 Fast Track cohort to Wednesday, January 11, at 5 pm.
The LSC-Tomball pharmacy technology program is accredited by the American Society of Health System Pharmacists (ASHP) and boasts a 100 percent pass rate on the Pharmacy Technician Certification Board (PTCB) examination.  Additionally, students earn an ASHP and ACPE approved sterile compounding certification as part of their training.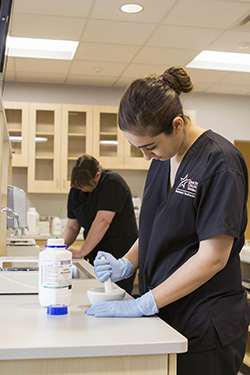 A maximum of 24 applications are accepted to the program each year; therefore, students interested in applying need to print out and complete the application form found at lonestar.edu/tomball-pharmtech, meet with an advisor, and submit the form as soon as possible, by mail or in person.  Qualified applicants will be contacted to schedule a program admission interview.
The certificate program may be completed in nine months (Fast Track) or 12 months (traditional) and features mandatory program orientation prior to the beginning of classes, hands-on preparation (skills, techniques and procedures are learned in three highly interactive laboratories), two hybrid courses and multiple laboratory options to allow schedule flexibility, and on-the-job training (a total of 320 externship hours which includes practice in both retail and hospital pharmacy clinical sites).
Those who complete the 31 credit hour Pharmacy Technology certificate program are then eligible to pursue an associate of applied science degree. The LSC-Tomball AAS in Pharmacy Management degree is transferable to many 4-year universities that offer the Bachelors of Applied Arts and Sciences. Applicants who can provide evidence of specific experience working in a pharmacy, certification through the Pharmacy Technician Certification Board (PTCB), and/or registration as a certified pharmacy technician through the Texas State Board of Pharmacy may be exempt from some of certificate program courses.
In January, the LSC-Tomball Health Science Building, located at 700 Graham Drive in Tomball, will open a newly constructed third floor which contains state-of-the-art pharmacy technology training equipment. The suite includes a retail pharmacy lab equipped with eleven computers that have bar code scanners, cash registers, an automated counting system, a patient consultation area, and a simulated drive-through window with microphone. The new facilities also contain an extemporaneous pharmacy compounding lab, a lab and in-house facility to train pharmacy technicians and pharmacists to compound sterile products and IV medications, such as those used in chemotherapy. The third major training space in the suite is a simulated hospital pharmacy lab which includes four automated dispensing cabinets (MedDispense), long-term care facility order entry software, and mock crash cart drug trays. "We are so excited about this new space," said Diana Broome, director of the LSC-Tomball pharmacy technology program. "These facilities will truly enhance the experience of our students and raise the quality of their (pharmacy) training to a whole new level."
The spring cohort classes will begin January 17. For more information prior to the January 11 application deadline, e-mail Diana Broome at Diana.V.Broome@lonestar.edu or go to lonestar.edu/tomball-pharmtech.

-30-
Lone Star College offers high-quality, low-cost academic transfer and career training education to 98,000 students each semester. LSC is training tomorrow's workforce today and redefining the community college experience to support student success. Stephen C. Head, Ph.D., serves as chancellor of LSC, the largest institution of higher education in the Houston area with an annual economic impact of $3.1 billion. LSC consists of six colleges, eight centers, two university centers, Lone Star Corporate College and LSC-Online. To learn more visit LoneStar.edu.