From student and colleague nominations, four outstanding faculty at Lone Star College-CyFair have been named as Adjunct Faculty Excellence Awards winners.
Recognized for their professionalism and commitment to student learning and success, this year's award recipients are passionate about their teaching careers, including Dr. Leigh Ann Eisterhold Frew and Patricia Gutierrez, who are education professors; Irene Ko, who teaches dance, and Natalie Stovall, who teaches art.
Dr. Frew has taught education courses, typically EDUC 2301 and EDUC 1301, at LSC-CyFair for five years.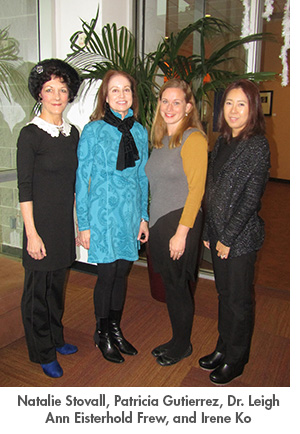 "It is so important to help students understand the real-life relevance of what they're learning, said Dr. Frew. "I link content to my experiences in the classroom as well as their own experiences observing teachers, establishing that connection between theory and practice." 
She said she is honored to be part of the learning experience for her students, many who plan to be teachers themselves.
Gutierrez said she is also honored to positively impact a student's life forever, not just one semester, and helping them through failures and triumphs in pursuit of their goals.
An education teacher at LSC-CyFair since Fall 2012, she creates an energetic and positive learning environment, based on high-quality, engaging and relevant instruction allowing students to naturally learn to become empowered and skilled, critical thinkers and problem solvers.
"I believe that success is not by chance, it is planned and continuously improved upon by both instructor and student," said Gutierrez. "I see myself in my students, and that inspires me to give them my best every day."
A Julliard School of Dance graduate, Ko describes dance as "the ultimate expression of our being that distinguishes us from each other and yet unites us at the same time."
Teaching at LSC-CyFair since Fall 2014, Ko said it's rewarding to see students who become curious, inquisitive and engaged in her class and believes her role goes beyond imparting knowledge. 
"I believe students are born with specific talents and capabilities and that is my role as instructor to tap into each student's potential," said Ko. "In this, I seek to create opportunities for students to externalize, make sense of their gifts and bring them to life."
Stovall takes a hands-on, experiential approach to learning beyond still life drawing to help students develop a critical eye and learn the need to judge and question what they see.  
"As a studio artist that I believe the best and most efficient way to learn about art and visual art concepts is by the simple act of doing or making," said Stovall, who has taught art appreciation, drawing and design at LSC-CyFair for 4 years. "However, the skill to view their world fully, questioning and challenging the visual information in their world can benefit them in all aspects of their life."
The skill to view their world fully, questioning and challenging visual information can benefit them in all aspects of their life.
"In the practical, 'real-world' fields of visual communications, marketing, business, education and the humanities, the need to see, understand and develop abstract message through visual means is paramount," Stovall said.
These four adjunct faculty members will be among those employees honored for outstanding service in college-wide and system-wide employee events later this spring.
For information on LSC-CyFair, adjunct faculty opportunities, late start class registration as well as college degree and workforce programs, go to LoneStar.edu/cyfair.