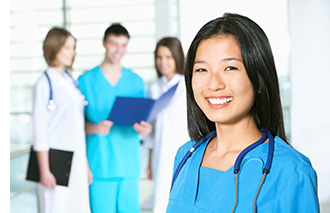 Find out how to get a meaningful allied health career in just one year at one of Lone Star College-CyFair's Medical Assistant Program information sessions this spring beginning  Feb 15.
LSC-CyFair's Medical Assistant Program has a job placement rate average of 92% in the past five years with 100% employer satisfaction rate, said Gina Scott, program director. Many of the 133 graduates since 2006 are hired off their externships in area hospitals, clinics, physicians' offices and other healthcare facilities, such as such as Kelsey Seybold and Fairfield Family Physicians. 
A medical assistant's tasks include preparing patients for examinations, scheduling appointments, maintaining medical records; interviewing patients, measuring vital signs, administering injections, drawing blood, taking electrocardiograms and completing insurance forms, she said.
LSC-CyFair's Medical Assistant Program prepares students to be multi-skilled allied health professionals specifically trained to work in ambulatory settings as well as to perform administrative and clinical procedures and laboratory skills.
Tanya Gonzalez, 2016 alumna who works for Baylor Scott and White Medical Center, said she needed a change after an eight-year EMS career.
"Medical assistant was the ideal job to have to continue my love for providing patient care," she said. "Medical assistants are generally used in a clinical setting therefore being able to enjoy a Monday through Friday 8 a.m. – 5 p.m. type of schedule."
For Elizabeth Recinos, 2016 alumna who works at Northwest Family Practice, the connection formed with patients and going home every day knowing she helped make a difference in someone's life is the favorite part of being a medical assistant.
"One of the greatest things about this career is that you have the option to work in many different specialties, whether it's in pediatrics, family practice, pulmonology, oncology, ob/gyn, etc.," she said. "Every day is a learning experience because two days are never alike."
Jana Metoyer, a 2008 alumna who works for HSE Medical Associates and adjuncts at LSC-CyFair, also sought a job where she would be helpful and know she'd make people's lives better.
"I wanted a job that would challenge me and allow me to constantly learn new things," she said. "One of the cool things about being a medical assistant that I really enjoy is the autonomy. You are self-driven and it really develops independence and critical thinking skills. There is more freedom than I think most people realize."
According to the Bureau of Labor Statistics, a career as a Medical Assistant has a median annual salary of $30,590 (in 2015) and is projected to grow 23 percent through 2024. As demand for preventive medical services grows to serve the aging baby-boom population, physicians will be hiring more assistants when they expand their practices.
LSC-CyFair's Medical Assistant Program is a close to home and affordable at an average cost of $4,500 option to gain the skills needed to fill such positions.
Among other benefits of LSC-CyFair's program are while it's a fast-paced program, the class size allows for one-on-one attention, said Gonzalez. It is a well-executed, comprehensive program with a completion time that is manageable, said Metoyer. It does require hard work and dedication, but the program was set up in a way that allowed for organization in regard to family obligations and could be easily accomplished with a little effort, said Recinos. 
These three alumni agreed Scott is a passionate instructor, who supports students from the start of the program until completion – not just passing the credentialing exam, but with gainful, rewarding employment. 
To learn more about starting a Medical Assistant career at LSC-CyFair, attend a spring information session from 1 p.m. to 3 p.m. held Feb. 15, March 22 or April 19 in the Health Science Center I, Room 123 at 9191 Barker Cypress.
For information, call 281.290.5274 or 281.290.3275, email Gina.R.Scott@LoneStar.edu or go to LoneStar.edu/medical-assist-dept-cyfair.