In a continuing effort to commemorate the 100-year anniversary of World War I, Lone Star College-CyFair's history and government departments are hosting a series of spring events.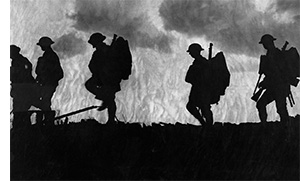 "World War I in some ways has been a forgotten war and in the shadow of World War II. In addition to killing millions of people, the war and the subsequent treaty set the stage for the rest of the 20th century and shaped the world we live in today," said LSC-CyFair History Professor Robert O'Brien. "Since 2014, Europe has held numerous WWI commemorations, but very little has been done in the United States. We thought it was essential to hold events at LSC-CyFair so that our students and community could learn more about this significant event."
Community members have also played a role in this commemoration effort donating WWI era memorabilia, O'Brien said. The items are in the display case in front of the dean's suite, room 123 of the Technology Building.
Among the highlights of this series are two visiting professor and author presentations featuring Dr. Adriane Lentz-Smith, Duke University associate professor of history and author of "Freedom Struggles: African Americans and World War I" and David Greenberg, Rutgers University professor of history and author of "The Republic of Spin: An Inside History of the American Presidency," which has several chapters focused on Woodrow Wilson and WWI.
Dr. Lentz-Smith's presentation "African Americans and the War for Democracy" will be held Feb. 21 at 7 p.m. in the Main Stage Theatre, while Greenberg's April 5 presentation "The Press Agents' War: Propaganda and World War I" will be held at 7 p.m. in the Conference Center
The spring series kicked off with a Feb. 9 presentation "Spanish Influenza Pandemic of 1918-1919" with LSC-CyFair's Dr. Warner Bair, biology professor, and Dr. Sandra Harvey, history professor.
Other presentations are a Think Factory panel discussion on WWI with LSC-CyFair's Mark Thorsby, professor of philosophy, set March 29 and a film about American pilots fighting in France and discussion with LSC-CyFair's Heidi Jo Green, political science professor, set April 27.
As April 6, 2017 will be the 100-year anniversary of the U.S. Congress declaring war on Germany as America entered the war late, a special WWI Declaration of War Commemoration event is being planned.
In addition, there will be several Conversations book club discussions on "Good-Bye to All That," an autobiography about Robert Graves, who fought in WWI.
All events will be held on the LSC-CyFair campus at 9191 Barker Cypress. For times and places, go to LoneStar.edu/Cyfair.
For information on any of these presentations and events, contact O'Brien at  Robert.M.Obrien@LoneStar.edu or 281.290.3257 or Green at Heidi.J.Green@LoneStar.edu or 281.290.5918.