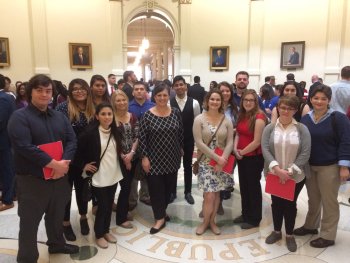 TOMBALL, Texas – Sophomore Fredrick Harris has always had a thirst for learning new things, and on Tuesday, he and more than 40 other Lone Star College-Tomball students had the opportunity to learn something new about advocacy and the legislative process during Community College Day 2017 at the Texas State Capital.
"It was very inspiring and eye-opening," said Harris. "My eyes were opened while serving in the military for nine months in Afghanistan in 2012, but this event opened my eyes even more because I had the opportunity to speak up for veterans. I definitely feel that my voice was heard."
Community College Day is an event held during each state legislative session intended to raise awareness and tell the story of how community colleges make a difference in student's lives. The event is organized by the Texas Association of Community Colleges (TACC), a non-profit association that includes all 50 public community college districts in the state.
LSC-Tomball Professors Cory Colby, Patrick Gilbert, and Dr. Annie Johnson-Benifield as well as college President Dr. Lee Ann Nutt accompanied students, who were able to ask lawmakers questions and observe college officials present the Texas Association of Community College's legislative agenda.
"This event gave students the opportunity to meet with lawmakers one-on-one, which I believe was very energizing for the them," Colby said, before adding, "They received real-life experience on how the government and the political process affects them."
LSC-Tomball Sophomore Lisa Gonzalez said that prior to attending Community College Day, she didn't understand the importance of the legislative process, but added that by the time the event was over, she had a new appreciation for what lawmakers do on a daily basis.
"Now I know why I must get involved in the process," Gonzales stressed. "I'm normally a shy person, but I stepped out of my comfort zone and I came out of my shell with questions. This was a very beneficial event in the fact that I now know what our state legislators actually do for me and my family."
[Digital Photo Available: Cutline - LSC-Tomball students stand in the Texas capitol rotunda with LSC-Tomball President Dr. Lee Ann Nutt during Community College Day 2017.]