A campus Mock Crime Scene event and a Forensic Science Symposium helped Lone Star College-CyFair's Criminal Justice Department earn two National Criminal Justice Month Awards.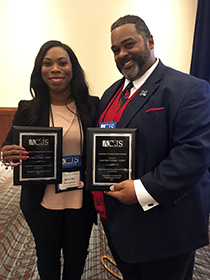 CJ Associate Professor and club advisor Jennifer W. Bourgeois attended the Academy of Criminal Justice Sciences (ACJS) Annual Meeting in Missouri this March in which LSC-CyFair was awarded the inaugural Community Engagement Award and Education Award.
The purpose of National Criminal Justice Month is to promote societal awareness regarding the causes and consequences of crime. The Community Engagement Award recognizes an event that meaningfully engages the community on criminal justice issues and topics. The Education Award recognizes an event for the educational impact on students and the community.
"These awards mean a lot because LSC CyFair, to some, is just a 2-year college, but being recognized at ACJS made LSC-CyFair shine bright among 4-year universities," said Bourgeois.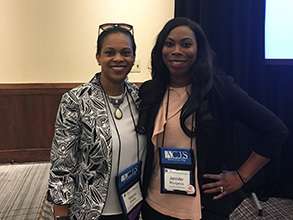 "I was both surprised and delighted that our club won such an honor," said CJ Club Secretary Bioleta Reyes. "It recognizes our dedication, our involvement on campus, and our intercommunication with other organizations."
The Criminal Justice Club's hard work brought awareness to LSC-CyFair students and employees about National Criminal Justice Month and year round with educational and informative events pertaining to Criminal Justice including: Who Dunnit Mock Crime Scene event; CJ transfer information sessions, Forensic Science Symposium, Mythbusters event and weekly club meetings, just to name a few.
"I am proud of my students because they have the same passion as I do for the Criminal Justice field," she said. "They work all year to share this passion, not just during National Criminal Justice Month in March."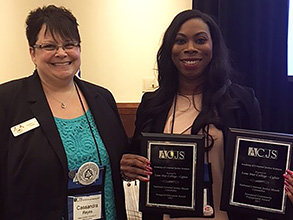 Former CJ students and 2016 LSC-CyFair alums Gisselle Fanini and Bianca Serna have had unique experiences and opportunities that will help them in their future careers in criminal justice, said Bourgeois.
Fanini was able to gain criminal justice work experience, explore career options and develop personal and professional skills as a participant in the Student Volunteer Program with Homeland Security Investigations, U.S. Department of Homeland Security. This former CJ club member, who graduated with an Associate Degree in Criminal Justice, is completing her first year at Sam Houston State University.
Serna, who will graduate from the University of Houston-Downtown with a Bachelor's in Criminal Justice this July, participated in a UHD program teaching such things as basic math skills and how to operate new technology to help former prison inmates transition back into mainstream society
For information on LSC-CyFair's CJ Club, contact Bourgeois at 281.290.3594 or Jennifer.W.Bourgeois@lonestar.edu.