Come enjoy a fun-filled family day at the P. Vorish Pop Up Book Festival at Lone Star College-CyFair April 22 with free activities and books to take home for children and teens up to age 18.
With an opportunity to start or add to a home library, families can choose from more than 3,000 books available at this festival set from 11 am. – 3 p.m. between the Technology Building and the library at 9191 Barker Cypress.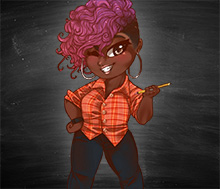 The LSC-CyFair Sociology Club is hosting this book festival for several reasons. Giovanni Gonzalez, club vice chair, said research shows not only do children ages 6 to 17 say they are more likely to finish a book they have picked out themselves, but those who read for pleasure on a daily or weekly basis, score better on reading and writing tests than infrequent or non-readers.
"Many families, now, don't have books in their household, which is upsetting because some of the best moments a child can have is when their parents/ guardian/ someone who loves them reads to them," he said.
This festival, which is a dream come true for club advisor Professor Kelli Vorish, will also include a bounce house, arts and crafts, giveaways and refreshments.
While club members and college students donated books for this festival, Half Priced Books generously donated the majority of the books for this event.
For event information, or to be a sponsor or a volunteer, call 281.290.5207 or email sociology.cyfairclub@gmail.com.