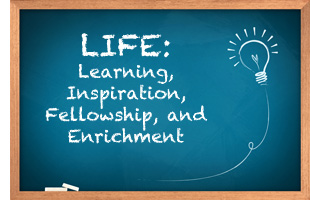 Enjoy weekly programs at Lone Star College-CyFair learning about book crafts, genealogy and being a writer.
The Learning, Inspiration, Friendship and Enrichment (L.I.F.E.) programs in May are free and held Wednesdays from 10 a.m. to 11 a.m. in the library (Room 131 unless otherwise noted) at 9191 Barker Cypress.
May 3 - Book Leaf Blossoms
Let Krissy Conn and Nicole Gibson help you craft beautiful paper flowers from upcycled discarded books.
May 10 - Genealogy Series: A World of Sources
Mick Stafford, Executive Director of HCC Libraries, gives you a bird's-eye view of the wealth of genealogy sources online and through your library.
May 17 - Genealogy Series: DNA and Medical Genetics Testing
LSC-Kingwood Professor Brian Shmaefsky reveals the state of the art when it comes to your genes and your health. He discusses the pros and cons of direct-to-consumer DNA tests and explains what they can and cannot tell you.
May 24 - So You Want to Be a Writer
Prolific fiction and nonfiction author and war veteran Gordon Rottman, leads a discussion on the basics of how to start (and finish) a writing project. To commemorate the sacrifices of American troops in advance of Memorial Day. Some attention will be given to writing about military experiences.
May 31 - Book Leaf Vases
Krissy Conn and Nicole Gibson are back to show you how to display your lovely book leaf blossoms in a vase made of, you guessed it, books.
Call the library at 281.290.3214 for L.I.F.E. program information or go online to LoneStar.edu.