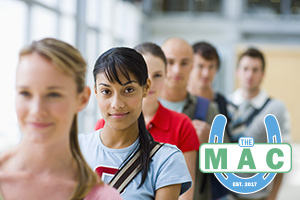 Skip the Line
Lone Star College-Montgomery has implemented QLess software, a service that empowers students to control their time by providing an interactive tool to request student services, reduce wait time experiences, and boost operation efficiencies for student success.
Using QLess, LSC-Montgomery students have the ability to schedule appointments or join a virtual queue from on-site kiosks in the Student Services Building (Building C), lonestar.edu/montgomery, or from their mobile phones. Once in the queue, students can grab a bite to eat, go to class or just relax, rather than wait in a line. QLess provides students with text updates on where they are in line and predictive wait times so they only need to return when they are called upon.
With the new solution, LSC-Montgomery will continue to improve student satisfaction while reducing wait times.
"We are committed to improving the student experience at LSC-Montgomery," said Cami Keitel, dean of enrollment services at LSC-Montgomery. "Smart technology solutions like QLess are a huge benefit for our students and our staff. By improving how students experience wait times, we also provide a more productive and positive environment for our staff members."
The Lone Star College Foundation recently awarded grants for innovative project ideas at LSC-Montgomery that address the college system's goals and initiatives, including QLess software training and setup. These mini-grant funds assist faculty and staff in the development and implementation of exemplary projects not normally funded through the regular budgetary process. The mini-grants also provide an excellent opportunity to utilize the funds as seed money to test an idea prior to applying for external funding.
"QLess' mission is to liberate students and everyone from waiting in line, so we are delighted to partner with LSC-Montgomery and help their campus take a major leap forward with student services," said Dr. Alex Bäcker, founder and CEO of QLess. "Students are busy enough without having to wait in line. LSC-Montgomery's partnership with QLess will allow them to spend more time learning and less time waiting. I'm thrilled that our platform is being used in such a wonderful manner to improve the student experience and boost staff efficiency."
In addition to implementing QLess, LSC-Montgomery recently opened the Maverick Assistance Counter (MAC). The MAC is a single service counter to better serve students at the front door of the Student Services Building (Building C) to provide streamlined services for students; from admissions to financial aid to counseling and veteran's services.
"The MAC has become the front door for new students and we want to make the best first impression," said Keitel. "Staff at the MAC have improved the student experience, reduced wait times and helped eliminate students waiting in the wrong lines.
Registration for fall classes at LSC are underway. Visit LoneStar.edu/Registration to learn more about how you can advance your education at an affordable price.
Lone Star College offers high-quality, low-cost academic transfer and career training education to 95,000 students each semester. LSC is training tomorrow's workforce today and redefining the community college experience to support student success. Stephen C. Head, Ph.D., serves as chancellor of LSC, the largest institution of higher education in the Houston area with an annual economic impact of $3.1 billion. LSC consists of six colleges, eight centers, two university centers, Lone Star Corporate College and LSC-Online. To learn more, visit LoneStar.edu.