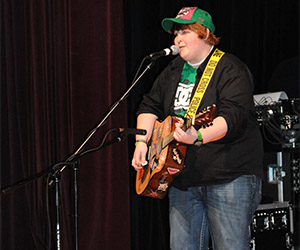 Stephanie "Roxy" Wood grew up in foster care as a ward of the state. She navigated her way through Lone Star College-Montgomery and Sam Houston State University; she will graduate with her Bachelor's of Science in Criminal Justice this summer and is looking for help to pay for her class ring.
Stephanie "Roxy" Wood had just registered for all her classes at Lone Star College-Montgomery when she learned she needed to prove she was a ward of the state or she would be responsible for paying for all of her classes out of pocket.
"Not having any family to depend on and only working a part time job, I was scared and stressed," Wood remembers. "When I finally found Cami Keitel dean of student services I was in tears, she took me under her wing and helped me get all the paperwork I needed to start classes."
"I remember my first introduction to Roxy like it was yesterday," said Keitel. "She was a student who desperately wanted to succeed, but had no idea how to overcome some of the obstacles in her path."
Fast-forward: Wood transferred from LSC-Montgomery to Sam Houston State University and will graduate this summer with her Bachelor's of Science in Criminal Justice.
"LSC-Montgomery provided me with the skills and discipline to succeed in even the most difficult of classes," said Wood. "The energy and pride that the faculty and staff take in student success is unprecedented. The lengths that they are willing to go to make sure you are successful in your studies and in life are immeasurable."
"I am so proud of Roxy for persevering and accomplishing this goal," said Keitel. "I am honored to be part of her journey."
Wood's last college dream is to get her class ring from Sam Houston State University. She is looking for help to pay for it after upcoming surgery on her left foot caught her unaware.
Once Roxy graduates she plans to work for Angel Reach, an organization dedicated to helping at-risk children and youth transition to better lives once they have aged out of foster care. Angel Reach was also instrumental in helping Wood, now she wants to give back.
"It has become my mission to work for Angel Reach," said Wood. "I know that I would not be who I am or where I am today if it was not for the fact that I grew up in foster care. Everything I went through made me who I am and gave me the inspiration to make myself a better person. I want to be an example for the youth Angel Reach works with. I want to be living proof that they can accomplish anything if they set their minds to it."
She has advice for students looking for an education in the foster care system.
"Never be afraid to ask for help," said Wood. "Remember that you cannot hold people in your life responsible for the things that happen to you in the past. It will not be easy to forgive and it will be impossible to forget, but you have to allow people into your life and allow them the opportunity to prove themselves worthy instead of throwing up your wall before giving them a chance."
Lone Star College offers high-quality, low-cost academic transfer and career training education to 98,000 students each semester. LSC is training tomorrow's workforce today and redefining the community college experience to support student success. Stephen C. Head, Ph.D., serves as chancellor of LSC, the largest institution of higher education in the Houston area with an annual economic impact of $3.1 billion. LSC consists of six colleges, eight centers, two university centers, Lone Star Corporate College and LSC-Online. To learn more, visit LoneStar.edu.