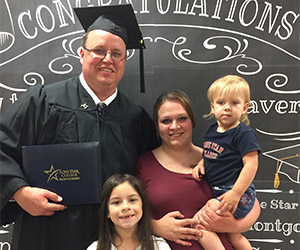 J.R. celebrates his Human Services Certificate with his family at Lone Star College-Montgomery's commencement ceremony.

J.R. stands outside classroom G117 where he took most of his classes. J.R. utilized LSC-Montgomery disability services to help complete his program.
Norman Eugene Hartley Jr. or "J.R." puts ability in 'dis'ability. The 44 year old received his Human Services Certificate at Lone Star College-Montgomery's commencement ceremony May 12.
"All my life I was in special education," said Hartley. "A lot of people told me I could not go to college, but when I met my wife in 2011 she convinced me that I could."
Hartley credits LSC-Montgomery Disability Services for helping him.
"Without their accommodations I do not think I would have come close to making it," said Hartley. "When I first got here they gave me a pen that would go over words and read it to you, then I got a scribe and it really helped. Scribes read me my tests and for some reason when something is read to me I comprehend it better, it clicks."
J.R. has advice for others with disabilities looking to attend college.
"Please go to college, you can do it," said J.R. "Disability services at LSC-Montgomery will do everything in their power so you can succeed."
Hartley's favorite class was Dynamics of Group Counseling with Professor Glen Killian.
"I did not want that class to end because I really liked it a lot," said Hartley. "I made a group on Facebook so everybody could keep up with each other and people still post to it."
"I am so proud of J.R. for completing his degree with us," said Killian. "He is an excellent example of the kinds of inspirational students we have in our Human Services Program, students who have a heart to serve others and who have persevered to achieve their goals. I always tell our students they are my heroes, and I am excited to have played a small roll in JR's success."
"Without professors Graham Miner, Gloria Kessler, Dr. Cynthia Trumbo and Glen Killian I would have never been a college graduate. They are very patient, very understanding and very caring. I will always, always hold them in high regard."
J.R. has been in the grocery business since 1993, most recently working in produce at Kroger in Huntsville. He lives with his wife, Jamie, daughter Lydia and 22-month-old daughter Cora Mae. Hartley's dad, Norman Eugene Hartley Sr. died three years ago. He gave J.R. a watch he wore on graduation day.
"I told my brother to save my dad a seat so it was like he was with me, watching me on graduation day," said J.R. "I know he would be proud. My certificate is something that no one can ever take away from me. It is something that I accomplished and I will have those memories and friends forever. I can say I went to college and I graduated. I know now that with my determination nothing can deter me if I want to do it."
Lone Star College offers high-quality, low-cost academic transfer and career training education to 95,000 students each semester. LSC is training tomorrow's workforce today and redefining the community college experience to support student success. Stephen C. Head, Ph.D., serves as chancellor of LSC, the largest institution of higher education in the Houston area with an annual economic impact of $3.1 billion. LSC consists of six colleges, eight centers, two university centers, Lone Star Corporate College and LSC-Online. To learn more, visit LoneStar.edu.