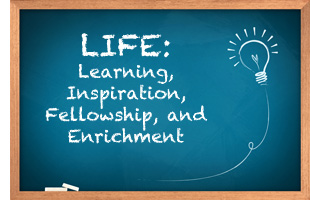 Enjoy weekly programs in the cool air at Lone Star College-CyFair this summer learning about the flag, barbecue tips, cookbooks, the Beatles, paratroopers and more.
The Learning, Inspiration, Friendship and Enrichment (L.I.F.E.) programs in June and July are free and held Wednesdays from 10 a.m. to 11 a.m. in the library (Room 131 unless otherwise noted) at 9191 Barker Cypress. There will be no session held July 5 due to the Independence Day holiday.
June 7 - The Man Who Invented Fiction - Miguel Cervantes
Start out the Summer Reading Program right with insights into Don Quijote and the how and why it is considered a pivotal work in Western literature. Professor Carolina Ruiz shares her ideas and Quijote devoté Jorge Enrique brings some of his quixotic art collection. Door prizes will be awarded.
June 14 - It's a Grand Old Flag
It's Flag Day and warrior and writer Chris Hernandez reflects on what the flag means. Learn a little history of the American flag and how its symbolism affects everyone. A book signing follows.
June 21 - To Smoke or Not to Smoke? There's the Rub
Rub or marinate? Grill or Smoke? What's a Texan to do? James (Jamie) Gay, barbecue fan, cooks up a brisket with all the fixings providing tips on what makes the best barbecue.
June 28 - Cypress Creek Greenway Project
Chair Jim Robertson gives an update on the progress of this project across Harris County Precincts 3 and 4. The project creates green space with parks and trails from west of US 290 to where Cypress Creek joins Spring Creek, a distance of 40+ miles. Ditch the car for a hiking, biking, or rowing adventure.
July 12 - History of Cookbooks
Pam Panettiere, librarian and history buff, delves into the quirky history of the cookbook and dares to reproduce some of the culinary discoveries of her gustatory endeavor.
July 19 - Sgt. Pepper and the Genius of the Beatles, 1967-2017
Remember "Sgt. Pepper's Lonely Hearts Club Band?" It has been 50 years since the Beatles reinvented themselves. Steve Davis, LSC-Kingwood professor and rock and roll aficionado, reports on his Beatles research and throws in a little Jim Morrison for hard-core rockers.
July 26 - A Paratrooper's Story
Learn about the life of paratroopers and their colorful lore and see how they look at life from both sides of the clouds. See a parachute up close for a parachute pullout demonstration. Former paratrooper Master Sergeant Gordon Rottman presides.
Call the library at 281.290.3214 for L.I.F.E. program information or go online to LoneStar.edu.