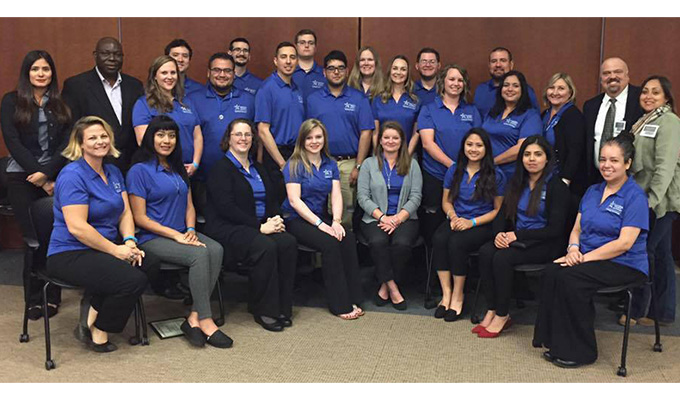 Lone Star College-Montgomery Medical Radiologic Technology (MRT) students recently received six honors at the annual Texas Society of Radiologic Technologists (TSRT) conference in Fort Worth.
Montgomery MRT students competed against other accredited Texas Radiologic Technology programs in PowerPoint Presentations, Scientific Research Papers, Scientific Poster Board Displays, and Student Bee Knowledge Bowl competitions.
Student Clinton Kaley's scientific research paper "MRIdian: MRI-Guided Radiotherapy" took first place in the writing competition.
"As I researched the topic I got obsessed with it," said Kaley. "By the time I finished I really wanted to win the competition so it felt really satisfying to receive first place."
Aimee Beliveau's PowerPoint "Vascular 3-D Visualization Software" took first in the PowerPoint presentation competition.
"The technology is like a GPS for blood vessels," said Beliveau. "It helps navigate the liver to get to tumors. This software is giving the best hope for people who have liver cancer. I find imaging really fascinating. I think it is amazing that you can see inside the body without having to open it up."
Jennifer Otrezov's presentation "Airport Body Scanner Safety" came in second place. Otrezov also received the 2017 TSRT Rising Star Award.
In the scientific poster board display competition, Jennifer Otrezov, Emily Dorman, and Jennifer King's "MRI Guided Radiation Therapy" received first place while LaDonna Hogue and Ariana Pliego's "Radiology and 3D Printing" won second place.
"We have well-prepared students," said Dr. Ozor, LSC-Montgomery MRT Program Director. "Our students select interesting topics on high-tech, medical imaging cutting-edge technology, to write about and present each year".
Current students have advice to those considering becoming Radiologic Technologists.
"The Radiologic Technology program at LSC-Montgomery requires a lot of hard work," said student, Juan Flores. "You have to want to help people. Make sure you want to study, use time management and pace yourself. I feel like I have made the best choice of my life doing this program here."
"We have a big support system," said King. "We have adjuncts and clinical instructors; we have a lot of people besides professors who help make sure that we are successful and have a lot of experience."
For more information on the Medical Radiologic Technology at Lone Star College-Montgomery visit www.lonestar.edu/medical-radiology-tech-aas
Lone Star College offers high-quality, low-cost academic transfer and career training education to 95,000 students each semester. LSC is training tomorrow's workforce today and redefining the community college experience to support student success. Stephen C. Head, Ph.D., serves as chancellor of LSC, the largest institution of higher education in the Houston area with an annual economic impact of $3.1 billion. LSC consists of six colleges, eight centers, two university centers, Lone Star Corporate College and LSC-Online. To learn more, visit LoneStar.edu.