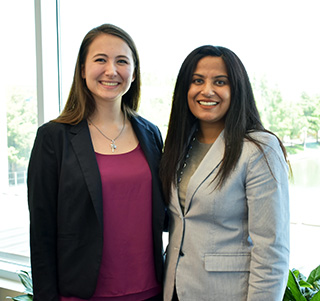 Lone Star College-CyFair's Daniela Markovic is headed to France in July as the only student in the United States selected to participate in an all-expense paid program to complete her bachelor's and master's degrees in engineering.
Washington, D.C. attaché Jean-Pierre Trotignon, President of the N+1 NETWORK, a network of French engineering schools, names this four-year associate to master's degree program as France's most prestigious degree. The degree program is offered through the French Embassy in partnership with the N+1 NETWORK of France's top engineering schools and Community Colleges for International Development (CCID.)
"I am incredibly excited and honored to have received this wonderful opportunity to further my education and my aspirations," said Markovic, who plans to be an environmental engineer.
Markovic was born in Germany and raised in Houston after her parents, refugees from Bosnia, moved the family to the United States in 1998. She graduated from Langham Creek High School in 2015 and was accepted to Texas A&M and the University of Texas at Austin, but chose to accept the Honors College Chancellor's Fellows Award that she was offered by LSC-CyFair.
"We are so proud of Daniela and what she has been able to accomplish while here at LSC-CyFair," said President Dr. Seelpa Keshvala. "Through her dedication and perseverance, she has earned an experience of a lifetime that will positively impact her life, her family, and her community."
"Through my participation on campus, I have come to understand that there are opportunities everywhere," Markovic said. "And succeeding at Lone Star really depends on your persistence and ambition."
LSC-CyFair Honors College Director Esther Robinson describes Markovic as "a motivated scholar who made the most of the opportunities that she has been offered as an Honors College Chancellor's Fellow. Daniela has been an exceptional role model representing the best that we have to offer to our students on campus, in the community, and globally."
As an integral part of her course of study, Markovic was selected to present research that she conducted in the spring of her freshman year at the Gulf Coast Intercollegiate Honors Conference. This spring she conducted a comparative environmental science research project in Italy as a part of the Honors College International Capstone Award. She was also selected to participate as a member of the Honors College National Model United Nations delegation representing the Netherlands at the NMUN Conference in New York City.
According to New York attaché for the French Embassy Lea Futschik, this advanced level of undergraduate research made Markovic the perfect candidate to be the first student selected for the N+1 "Community College Abroad in France" initiative.
"Through a very comprehensive and high-level curriculum, the Honors College at Lone Star prepares its students to be very competitive and easily adapt to a new environment as they go on with their studies or on the job market," said Futschik.
The French Embassy in the United States plans to invite LSC-CyFair students like Markovic to apply next year as they expand their study abroad and internship programs. For Markovic, the study abroad experience will allow her to further develop her interest in using science to make a difference on a global stage.
In addition to being named a semi-finalist for the prestigious national Jack Kent Cooke Scholarship, service and helping others is a priority to Markovic. She loves research, math and science and has always had an interest in engineering, but didn't know what specific aspect of engineering to pursue. Her high school AP environmental science class sparked an interest which she pursued by taking honors environmental science at LSC-CyFair. For her final project, Markovic put her international honors experience to use by applying what she learned about environmental protection in Venice to her local community.
"It is clear that climate change is a direct threat to our planet that requires immediate attention. It is devastating that low socioeconomic populations have to burden the effects of pollution and poor city planning," said Markovic.
This summer, she will live with a French family and take intensive classes to learn the French language (she took four years of Spanish in high school) before moving to a campus in St. Nazaire to focus on engineering courses through this international program. Next summer, she will gain experience in her field interning with a university consortium sponsor corporation which will provide her with the final three years of tuition and housing to complete her engineering degree.
"My parents instilled a love of travel early on so I'm excited about experiencing the culture," said Markovic. "The language part - I'll get over; making connections – I'll be fine; the classes will be hard but manageable. The hardest part will be missing my family, especially my brother."
Markovic is the first in her family to attend college, and she graduated Magna Cum Laude as an Honors College Chancellor's Fellow with an Honors College Leadership Track distinction, which included serving as an officer in Phi Theta Kappa. She said she is grateful for the French Embassy scholarship and happy that as a result of her Honors College Chancellor's Fellow Award she has not accumulated any college debt thus far.
For information on The Honors College at LSC-CyFair, Phi Theta Kappa or for summer and fall courses, go to LoneStar.edu/Cyfair.