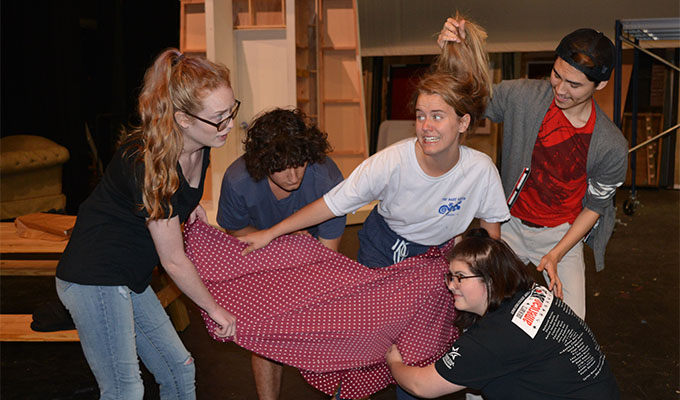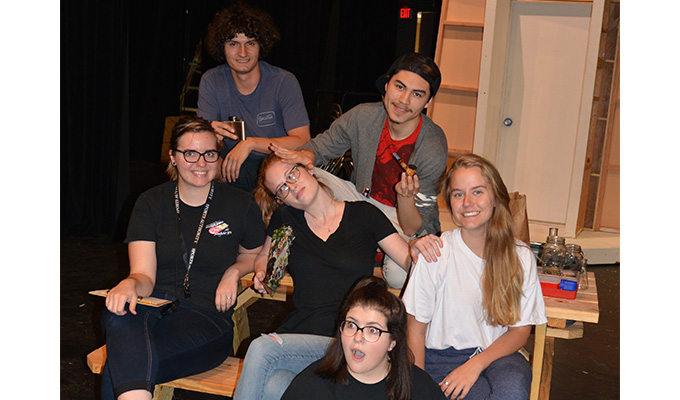 Get ready to bust a gut at Lone Star College-Montgomery's summer play "The Miss Firecracker Contest." The show will run July 6-8 at 8 p.m. in the Mainstage Theatre located in Building D. There will also be a matinee performance Saturday, July 8 at 3 p.m. The show is written by Beth Henley and directred by new LSC-Montgomery professor Emmy Frank.
"The show is a hilarious dark comedy set in Mississippi in the 1980's," said Frank. "It is about a young woman who has developed a bad reputation and she thinks the big Fourth of July pageant is her best chance to leave town in a big, exciting and bold way. However, with the cast of rag tag characters involved, hilarity inevitably ensues."
The show is a comedy, but at its core it goes deeper.
"Ultimately it is a show about confronting contemporary 1980's opinions about appearance," said Frank. "The characters tackle what makes someone a beauty and what makes someone a good person."
The six-person cast is a blend of LSC-Montgomery students, graduates and a member of the community.
"I feel like Popeye and I are the same person," said actor Lacy Rae Pearson. "The only trait where we differ is I am more socially aware than Popeye. She is very innocent; she is everyone's biggest fan even if they do not like her."
"Tessy is kinda bossy and I am really bossy," said actor Makenzie Renard. "I have stage managed before and Tessy is the stage manager of the pageant so we have a lot in common."
"I relate to Carnelle because growing up I had two sisters, a twin sister and an older sister and I was always considered the runt of the family," said actor Madison Mapes. "Carnelle is trying to prove herself through the Miss Firecracker pageant and in a way I am trying to prove myself by pursuing theatre and acting."
"These are fabulous, hilarious actors," said Frank. "Their comedic timing and ability to relate to the characters stood out during casting. The audience is in for a really good time."
The hardest thing for the actors has been mastering tricky, exaggerated southern accents.
"I am struggling a little bit with some of Popeye's lines," said Pearson. "She has a lot of written dialect, so when she talks sometimes she says 'them's pretty eyes' then sometimes she speaks standard American English."
"I have a secret weapon," laughs Renard. " My mom has a country accent so I ask her, 'hey mom can you talk to me?' then I know exactly how to talk like Tessy."
The actors have a word of advice for the audience.
"Have an open mind and laugh at a lot," said actor McKenna Hartlein who plays Elain.
"This show is a dark comedy, do not be afraid to laugh, it is meant to be funny," said Mapes. "The characters and scenarios are exaggerated so just have fun with it because we are having fun with it."
This is Emmy Frank's first time directing a play with LSC-Montgomery Drama Department. She comes with an extensive background in theatre from Broadway to The Pennsylvania State University. She received her M.F.A in Directing, from The Pennsylvania State University: School of Theatre and her B.F.A from New York University: Tisch School of the Arts in Directing.
"The Miss Firecracker Contest" contains mild adult language. Tickets can be purchased online at lonestar.edu/theatre-montgomery or at the box office on the day of the performance. Tickets are $10 for general admission, $7 for seniors (55+) and $5 for students/faculty/staff. Expected running time is two hours with an intermission.
Lone Star College offers high-quality, low-cost academic transfer and career training education to 95,000 students each semester. LSC is training tomorrow's workforce today and redefining the community college experience to support student success. Stephen C. Head, Ph.D., serves as chancellor of LSC, the largest institution of higher education in the Houston area with an annual economic impact of $3.1 billion. LSC consists of six colleges, eight centers, two university centers, Lone Star Corporate College and LSC-Online. To learn more, visit LoneStar.edu.