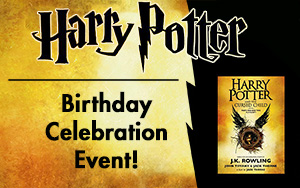 Put on your Hogwarts robe and join the Lone Star College-CyFair fun at the Aug. 3 Potter party and paperback release of "Harry Potter and the Cursed Child, Parts One and Two."
"Last year's launch party day was such a great success, we're hosting another birthday celebration and book release event for the college and community," said Andrew Hall, operations manager at LSC-CyFair's Follett Bookstore. "Harry Potter fans of all ages are invited for a little wizardry fun, including this year's new activity – wand making."
The celebration will feature Harry Potter-themed activities, trivia, games such as quidditch and pin the glasses on Harry, a photo booth, snacks, raffles, prizes and more, Hall said. A variety of Harry Potter books will also be available for purchase.
"The LSC-CyFair store team is excited to cohost this Harry Potter celebration with the Harris County Public Library LSC-CyFair Branch," said Hall. "We enjoy offering events like this that celebrate different customer interests and also promote a love of reading."
This come-and-go event is set from 11 a.m. – 3 p.m. in LSC-CyFair's Conference Center at 9191 Barker Cypress.
Call the bookstore at 281.290.5950 for information on this celebration or go to bkstr.com/lonestarcyfairstore/home for information on other bookstore events or promotions. For library program information, go to LoneStar.edu/library/Cyfair.
Registration is also under way for fall classes that start Aug. 28. For information, go to LoneStar.edu/registration.