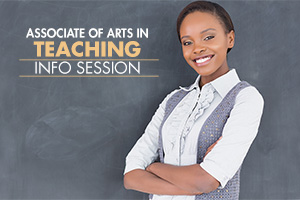 Is teaching our future leaders and workforce a dream, an interest or a passion of yours? Lone Star College-CyFair's Associate of Arts in Teaching (AAT) program offers seamless transfer options to help get you in front of the classroom.
Register now for the Aug. 16 information session to learn what it takes to become a teacher and the benefits of LSC-CyFair's AAT program.
General advisors and AAT faculty advisors will be available to answer questions about this two-year degree program, which satisfies the core requirements for baccalaureate programs at four-year institutions that lead to Texas teacher certification.
"We will go over the expectations of field experiences available in pre-k through 12 classrooms at the affiliations we have across the city and greater Houston area - school districts, private schools and child care centers where they can observe and/or volunteer," said Fay Lee, LSC-CyFair's Lead Faculty for the Education Department. "Then attendees will be able to talk to representatives from our four university partners that we have developed transfer agreements with, which provide a seamless transition from our AAT program to those institutions."
Attendees will learn about the innovative education programs offered through LSC's university partners, including University of Houston-Downtown (classes are offered on LSC-CyFair and LSC-University Park campuses), University of Houston-Victoria (classes offered at the Katy campus near the Grand Parkway), Stephen F. Austin (online program) and Texas Tech University (2+1 Partnership, which is an accelerated bachelor's degree plan).
"In order to be a teacher, students need a bachelor's degree and need to pass certification tests. Our AAT program provides a firm foundation for future teachers. In fact, our general education courses in our AAT degree plan will prepare students for required certification tests," said Lee. "Additionally, because of the seamless transition with our university partners, students will find that completing our AAT first is a great benefit to them. All universities attending the event will share unique aspects of their programs, and we want our students to choose the pathway that best suits their lifestyles or needs."
LSC-CyFair's AAT program information session will be held from 1:30 p.m. to 3:30 p.m. in the Center for Academic and Student Affairs (CASA) Building, room 111. Light refreshments will be served.
To register for this information session, go to https://tinyurl.com/yctkl8bq. For program information, go to LoneStar.edu/cyfair-aat or LoneStar.edu/teaching-aa.